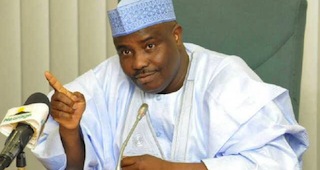 The Lagos State House of Assembly (LAHA) on Monday flayed the withdrawal of the security details of Alhaji Aminu Tambuwal and urged President Goodluck Jonathan to order their reinstatement.
Tambuwal, the Speaker of the House of Representatives, had his security details withdrawn on Thursday, on the orders of the Acting Inspector-General of Police, Mr Sulaiman Abba.
It came after his defection to the All Progressives Congress from the ruling Peoples Democratic Party.
NAN reports that the Lagos lawmakers, at their plenary, urged Jonathan to call Abba to order.
Mr Wahab Alawiye, a member representing Lagos Island Constituency II, who brought the matter up under Matters of Urgent Public Importance, said the withdrawal of the speaker's security details poses danger to his life.
The lawmaker said that the police boss had no right to interfere in an issue that concerns the legislature.
Also, Mr Mufutau Egberongbe, (APC-Apapa I) said that security apparatus that was withdrawn by Abba, was meant for the office of the Speaker and not Tambuwal as a person.
"The fact remains that Tambuwal still remains the Speaker of that House of Representatives and therefore no one has the right to withdraw his security details," Egberongbe said.
In his contribution to the debate, Mr Ajibayo Adeyeye, the Leader of the House, said the acting IG, by his action, was usurping the role of the judiciary.
"The acting IG has suddenly turned to a judge interpreting the law. We need to strongly condemn this act," Adeyeye said.
Another lawmaker, Mrs Adefunmilayo Tejuoso, (APC-Mushin 1), also said it was amazing that the police had started usurping the role of the judiciary.
Mr Sanai Agunbiade (APC-Ikorodu I) said that the issue on ground posed a lot of threat to the nation's democracy.
The house, consequently, resolved that the Federal Government should be urged to direct the police boss to reinstate the speaker's security aides in the interest of the country's nascent democracy.

Load more