Damilare Okunola/ Kaduna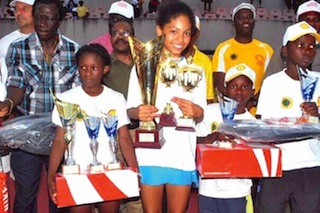 Emerging tennis star, Angel McCloud and young tennis whizkid, MaryLove Edwards will renew their rivalry when the NNPC Junior Tennis Championship gets underway in Kaduna, Northern Nigeria.
Edwards, who was before now the national Champion in the U-14 category, was beaten by McCloud in that category and at the U-16 finals at the recently concluded NNPC/SNEPCo Junior Tennis Championship in Lagos.
McCloud has however vowed to repeat same the feat in the Kaduna tourney slated for 3-8 November at the Murtala Square Tennis Court, Kaduna, as the two friends off court continue what is likely to go down as one of the fiercest rivalry in modern day tennis.
According to the Dubai-based half-caste, "if I play my game, I am sure of defeating her again if we happen to meet during the competition because when I am on top of my game, I am often unstoppable.
"I had an injury on my left thigh, more like a muscle sprain, but I can handle the matches with that."
But vastly-travelled Edwards is not conceding defeat either, instead she has also vowed to give it her all if both youngsters clash.
She told P.M. NEWS Sport that, "I will try my best to defeat her. This is the best way to prove that I have improved since the last time we met.
"It will also prove that I have been doing everything my coach has asked me to do. She is my friend when we are not off the court but on the court, we face our different businesses."
Also looking very promising in the girls category is the rivalry between Kaduna-based Iye Onoja and Chidinma Ezeh from Onitsha in the under 10s.
In the boys under 16s, Chris Itodo from Kaduna who lost for the first time to Peter Lawal from Abuja in the semifinals of the SNEPCo championship, will look to regain his dominance on home turf. Itodo will also have to contend with Chris Bulus and David Amusu among the many top juniors from Lagos.
The tournament which is part of the International Tennis Academy, ITA Junior Tennis Circuit is featuring boys and girls singles events in four categories – 10s, 12s, 14s and 16s.

Load more