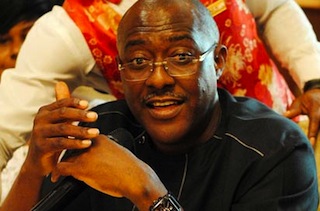 Nigeria's ruling party, in a move interpreted as political comedy of the highest order called on aspirants interested in contesting the 2015 presidential election to come forward to the party's national secretariat to pick the nomination and expression of interest forms.
It would be recalled that the party had earlier said that it had only one form for the office of presidency and that form was sold to President Goodluck Jonathan.
In a twist, Olisa Metuh, the party's National Publicity Secretary in Abuja announced in a statement that nomination and expression of interests form will be available to other aspirants, after two aspirants, who claimed to have paid for the nomination form but were shut out.
"All aspirants who paid for nomination forms, including the Presidential Form, but yet to collect same should come to the PDP National Secretariat with verifiable evidence of payment for purposes of collection of their forms," the statement said.
Metuh's statement contradicted the posturings and earlier statements of the party, having announced to the world, that President Goodluck Jonathan is the party's sole candidate for the presidency. The PDP National Executive Committee (NEC) and its other organs, including the Governors Forum, adopted President Goodluck Jonathan as the party`s sole presidential candidate for 2015 presidential election.
Governor Sule Lamido of Jigawa state, who had announced some interest in the post was believed to have been blackmailed to bury the ambition.
Two other aspirants, Dr. Abdul Jhalil Tafawa Balewa, son of Nigeria`s first Prime Minister, Alhaji Abubakar Tafawa-Balewa, Prof. Akasuba Abiola, wife of late business mogul, Chief M.K.O. Abiola, complained that the party refused to give them the form, after they paid the mandatory fee.
The PDP leadership told the duo, that only one form was printed. It was presented to President Jonathan on Thursday at a short ceremony at the Wadata House headquarters of the PDP.
Metuh in his statement said aspirants to all positions for the 2015 general elections should note that the deadline for the purchase and collection of all nomination forms had been extended to 6 November.

Load more