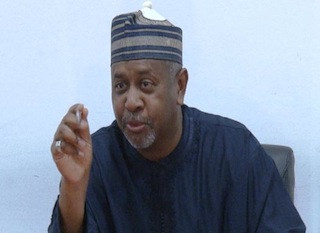 The Federal Government said on Monday in Abuja that it was determined to ensure that acts of political violence were decisively dealt with ahead of 2015 general elections.
The National Security Adviser (NSA), Mr Sambo Dasuki, said this at a two-day workshop on security awareness orgainsed for the media by the Office of the Secretary to the Government of the Federation.
Dasuki was represented by Mr Layi Lasehinde, the Director, Policy and Strategy, NSA office.
He said that government was committed in its resolve to rise against any behaviour that would jeopardise the peaceful conduct of the upcoming elections.
According to him, it is disheartening that some media and "unpatriotic politicians are busy deriding the present administration for their selfish interests."
"Such act encourages divisiveness and increases insurgency and insecurity in the country. I, therefore, warn those people to desist from such unpatriotic acts which are capable of over-heating the polity.
"Any further attempt to derail our common resolve to forge a united, peaceful and prosperous Nigeria will be rebuffed by the relevant security agencies. I assure you there will never be sacred cows.
"Every Nigerian must learn to live by the rule and strive to be our neighbours' keeper. We must therefore unite, especially the media, which is required to ensure peace and development of the country," he said.
In his remark, Mr Abdullahi Shehu, the Director, Special Services Office (SSO), Office of the Secretary to the Government of the Federation, said the workshop was aimed at sensitising the public on security consciousness.
He said it would help the populace to understand the importance of security, safety and the various precautionary measures to be taken in the event of emergency.
He enjoined the participants to seize the unique opportunity of the workshop to help rebuild the dream of united Nigeria through constructive contributions.

Load more