Kazeem Ugbodaga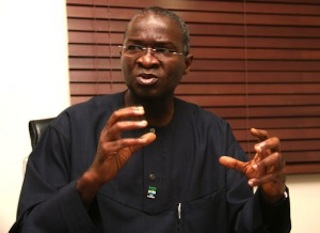 Lagos state governor, Babatunde Fashola has bowed to the leadership of the All Progressives Congress, APC, to appoint politicians as Executive Secretaries in all the 57 councils of the state.
The leadership of the APC, had on Monday at a meeting turned down Fashola's move to appoint directors in the civil service as Executive Secretaries.
Fashola had hinged his decision to appoint civil servants as Executive Secretaries to the fact that his predecessor, Asiwaju Bola Tinubu did it during his tenure in office.
P.M.NEWS had reported that the governor had planned to appoint civil servants as heads of the 20 Local Governments and 37 Local Council Development Areas, LCDAs.
The Governor's Advisory Council (GAC), the highest decision-making organ of the APC, met at the State House, Isaac John Street, Ikeja on Monday and rejected Fashola's move, insisting that politicians must be installed as Executive Secretaries, pending the conduct of elections into the councils.
The GAC comprises the APC National Leader, Asiwaju Bola Ahmed Tinubu, incumbent governor, former Deputy Governor, Prince Abiodun Ogunleye and other party leaders from the three senatorial districts in the state.
The name of 24 ex-council chairmen had already been pencilled down as Executive Secretaries to act in the interim till after the election.
A top source at the meeting told P.M.NEWS that the governor's move to install civil servants had been rejected by GAC and that politicians will be installed as ES.
Speaking this morning at an event in Lagos, Fashola refused to confirm that his move to appoint directors to head the councils had been rejected, but said "there is a transitional period during which we will constitute a transitional council before the election."
Fashola had proposed that directors will head a five-man committee for each of the Local Government and LCDA. The committee will comprise an Executive Secretary, to be headed by a director, Deputy Executive Secretary, who will serve as Secretary and three other members.
Our source said: "Fashola's decision was in line with the template, which his predecessor adopted after the expiration of terms of office of the council chairmen that served some years back. The Tinubu administration set up a five-man committee headed by a director in the state's public service.
"The GAC disagreed with the proposal and consequently convened a meeting, which was held at the State House at Isaac John, Ikeja on Monday. The meeting was convened to deliberate on the governor's position."

Load more