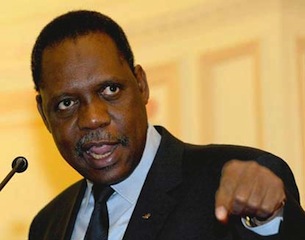 The Confederation of African Football (CAF) has unanimously agreed to stick with the original date of the commencement of the 2015 Africa Cup of Nations (AFCON).
NAN recalls that the 2015 AFCON is expected to hold from 17 January to 8 February in Morocco.
The host country, through its Ministry of Youths and Sports, had earlier requested for the postponement of the 2015 AFCON because of the outbreak of the Ebola virus.
However, in a statement on its website, the CAF Executive Committee has considered the request at its meeting on Sunday in Algiers, Algeria.
It said the continental football governing body unanimously agreed on keeping the competition's original dates because it had already taken measures to prevent the spread of the virus.
"Since the beginning of the latest outbreak of the Ebola virus, CAF has always acted in accordance with the precautionary principle of safeguarding lives by strictly adhering to the recommendations of the World Health Organisation (WHO).
"This was enforced through a circular dated Aug. 12 which sanctioned the suspension of all CAF competitions in countries heavily affected by the disease, namely Liberia, Sierra Leone and Guinea.
"This is to prevent holding football matches which could result in mass gatherings and could facilitate the spread of the virus," the statement was quoted as saying.
The statement said CAF had been able to organise peacefully all competitions across the continent since April 2014 with no cases of Ebola reported in connection with a football match's organisation.
It said WHO had reiterated CAF's recommendations in a letter dated Oct. 14 and re-confirmed this in a press release issued on Oct. 23.
"The letter explained that WHO did not recommend the cancellation of international meetings and mass gatherings in countries other than those affected," the statement was quoted as saying.
The statement also said the requirement was made to all National Associations of CAF to comply with health protocols prescribed by WHO.
"Thus, the Executive Committee of CAF confirms its commitment to keep the competition on the dates earlier indicated.
"It also asks the Royal Moroccan Football Federation to clarify the final position of Morocco not later than Nov. 8," the statement was quoted as saying.
It explained that the time given also applied to all other CAF national associations wishing to organise the competition on the dates agreed as long as the hosting requirements are met.
NAN also reports that a meeting of the Executive Committee will be held on 11 November in Cairo, Egypt to take the necessary decisions.

Load more