Eromosele Ebhomele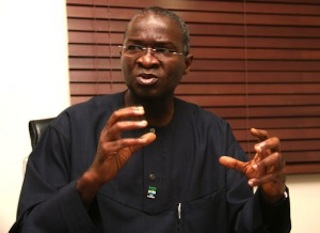 Governor Babatunde Fashola of Lagos State, western Nigeria, will on Monday present the 2015 budget proposal to the state House of Assembly, according to an announcement on the floor of the House on Tuesday.
Giving the information to his colleagues at a sitting presided over by Deputy Speaker Taiwo Kolawole, Leader of the House, Dr. Ajibayo Adeyeye, did not state details of the event but said the sitting would commence by 10:00 a.m.
This budget proposal would the last the governor would be presenting in his official capacity as governor.
He is expected to leave office on 29 May 2015 after completing a second four year-term in office as stipulated in the 1999 Constitution.
Fashola had on Monday, 3 November 2013 presented the 2014 budget proposal of N489.690 billion comprising recurrent expenditure of N234.665 billion and capital expenditure of N255.025 billion to the State House of Assembly for consideration and passage.
The budget also had a total personnel cost/total revenue of 19 per cent with total personnel cost/IGR at 27 percent while personnel cost, as percentage of recurrent expenditure, was 37.
The House passed the budget after re-adjusting the breakdown to accommodate priorities.

Load more