Okafor Ofiebor\Port Harcourt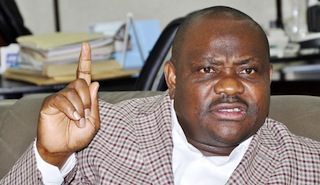 Nyesom Wike, the immediate past Minister of State for Education and a Rivers state governorship aspirant on the platform of the Peoples' Democratic Party, PDP, has dismissed the complaints and threats of 16 governorship aspirants who boycotted last Saturday's ward congresses in the state describing them as "professional losers" who don't have the capability to contest the elections.
Wike who is defiant in spite of accusations by 16 PDP governorship aspirants that the ward congresses were designed to favour him, congratulated the delegates who emerged victorious during the election in the 319 wards across 23 local government areas and lambasted the 16 governorship aspirants as armchair politicians.
The 16 governorship aspirants had rejected the composition of the electoral committee set up by the national headquarters to conduct the ward primaries. They also kicked against the appeal panel claiming that they were all cronies of Wike.
The former minister while reacting to the allegations that he rigged the ward and local government congress in Port Harcourt, stated that the other aspirants were hoping that President Goodluck Jonathan will prevail on him not to pick the expression of intent and nomination form but were surprised when he resigned and paid for both forms.
"Where were they all these months that I was on the road working for the resuscitation of the party. Most of them are moles that the All Progressives Party, APC, has planted to derail our march to the Government House in 2015. I can assure you that they will not succeed."
Wike who is upbeat over the success of the congresses told the victorious delegates that the governorship aspirants who are accusing him of hijacking the party are not even prepared to come to their wards to campaign for votes, adding that, "I commend you all for participating in the ward congresses and you did well because you have all worked hard".
Meanwhile, Afam Okeke, the Chairman of the Appeal Panel set up to entertain complains emanating from the ward congresses, told journalists, in Port Harcourt, that the panel will be fair in its dealings. "We will be fair to all those who have complaints," he said.

Load more