Jethro Ibileke/Benin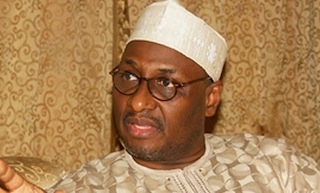 Following barrages of complaints that trailed the ward congress of the Peoples Democratic Party, PDP, conducted last Saturday, some aggrieved members of the party who recently defected from the All Progressives Congress, APC, have threatened to pull out of and work against the party should it fail to right their wrong.
The aggrieved members, including Gabriel Atoe, chairman of ward 2, Esan West local government and Usman Shagadi, Etsako West local government, alleged that list from their wards were doctored after the congress by powers that be in Benin.
The members were at the state headquarters of the party in Benin to officially lay their complains before the State Congress Appeal Committee set up by the National Working Committee of the party, headed by Gbenga Oduwaiye.
"We are here so that the state leadership of the party as well as the congress appeal committee will help us find out the person that were responsible for the manipulation. Somebody here in the secretariat is changing all the names.
"These are people that are not staying in our area, not meeting with us in our ward and we don't know how we will come up with three names in my ward and somebody who is in Benin changes it. That is what we want to complain so that they should find out why it is so," Shagadi said.
He threatened that if the culprit was not publicly exposed and the names of delegates earlier sent to the secretariat restored, the party should forget the forth-coming the general elections in the state.
Meanwhile, the state secretariat of the party has received 22 petitions bordering on alleged manipulation of list of delegates. The State Congress Appeal Committee Chairman, Gbenga Oduwaiye disclosed this to journalists in Benin.
He said the petitions cut across the three senatorial districts, adding that, the mandate of the committee was to receive petitions from aggrieved members of the party, listen to their complaints, write reports and then forward the reports to the National Working Committee of the party for appropriate and necessary actions.
"We have spoken to your people in your place (Esan West) yesterday and we have talked to people from Owan East, Owan West and Akoko-Edo local government areas already today. We are doing these in all the states as a democratic party so that we will not allow impunity in the party.
"The complaints were about the list of delegates that arose from the just concluded ward congresses of the party held last Saturday. People were elected in their various wards as a result there has been allegations of manipulation and changes of some names of duly elected delegates. Our job is to look into it, verify some of these claims, make some corrections as possible and make recommendations to the national working committee," he said.
According to Oduwaiye, the Committee would conclude its assignment by Wednesday and make the necessary recommendations to the National Working Committee.

Load more