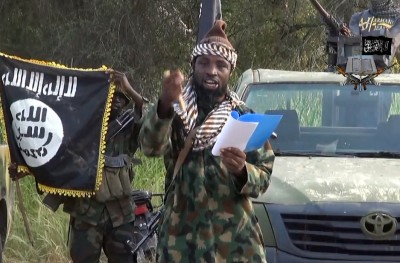 Suspected Boko Haram gunmen launched a series of attacks in Nigeria's restive northeast on Tuesday, opening fire on troops in one town before raiding a French-owned factory in another, witnesses said.
The violence in Gombe state came just after midday and began with a gunfight at a military checkpoint on the outskirts of Nafada town.
Multiple residents said Islamists overwhelmed the soldiers before entering Nafada where they set fire to a police station, robbed a bank and razed a political party office.
They then drove off in 4×4 trucks and on motorcycles to the town of Ashaka 20 kilometres (12 miles) away, where the French industrial giant Lafarge has a cement plant.
Staff at the Ashaka plant said French nationals were on site at the time of the raid, but there was no firm evidence about their condition, with the security forces and officials in Gombe unavailable to comment.
The twin attacks underscored the worsening security situation in the northeast, where violence has continued at a relentless pace despite government claims of a truce with the Islamist rebels.
Police station, bank targeted
"They came in large numbers in vans and on motorcycles, shouting Allahu Akbar (God is greater)," said Nafada resident Abubakar Galda, in an account supported by other locals and a rescue worker.
Nafada is near the border with Yobe, a state under emergency rule since last year because of the Islamist uprising and where Boko Haram is believed to control several towns and villages.
If confirmed as an Islamist attack, the violence would be consistent with Boko Haram's recent pattern of striking south of their stronghold in the extreme northeast.
Inside Nafada the gunmen "blew up a police station with rocket propelled grenades", said Galda.
Another resident, Awwalu Ibrahim, said they then razed the local headquarters of the country's ruling Peoples Democratic Party.
Multiple witnesses said the suspected militants also robbed a bank, a common feature of Islamist raids.
The group is thought to be funding its insurgency increasingly through theft and ransom kidnappings.
French-owned factory targeted
Gunmen arrived in Ashaka — where Lafarge has run a cement plant since 1974 — at roughly 3:00 pm (1400 GMT), according to Amadu Wunti, who works at the site.
They looted dynamite and demanded to be taken to the rooms in the compound where the expatriate managers stay, Wunti said.
He identified the expatriates as French nationals but that could not be independently confirmed.
He said the plant was mostly empty, with staff having run to safety when news spread that the gunmen were approaching.
"It is not clear if the expatriates also ran along with other senior staff," Wunti told AFP. "No one knows the fate of the expatriates."
Wunti's account was supported by several others, including Sa'adu Balarabe, a teacher at the local boarding school, who said the gunmen made off with trucks stolen from the Lafarge site.
Rising violence
The violence comes after a triple bombing at a bus station in the state capital Gombe City last week, which killed at least eight people and injured dozens of others.
Bloodshed has continued across the north since the government claimed on October 17 that Boko Haram had agreed to a ceasefire.
Nigeria maintains that the truce is still viable, despite the continued violence and mounting death toll.
But most experts believe that the purported Boko Haram envoys supposedly in talks with the government have no ties to the group's real leadership.
Boko Haram leader Abubakar Shekau dismissed talk of a ceasefire as "a lie" in a video sent to AFP last week.

Load more