Jamiu Yisa
The entire Lagos State, southwest Nigeria, was at a standstill Wednesday morning following an early morning rain which started at about 5:00 a.m.
Vehicular traffic within the metropolis was completely paralysed due to the heavy traffic caused by flash flood resulting from the rainfall.
Motorists and commuters were trapped in traffic for several hours in most parts of the city. In some instances, a journey of ten minutes took about two hours as major junctions in the metropolis were blocked by desperate motorists struggling for right of way. Matters were made worse by the absence of traffic officials at some major junctions.
Most parts of the state became flooded following the rainfall and left commuters and school children stranded at various bus stops across the state.
Areas flooded by the early morning rain includes Ipaja, Ikeja, Agege, Ogba, Lagos-Apapa Expressway, Obalende, Isheri, Olowo-Ira, Lagos-Abeokuta Expressway, Maryland, Ojota, Akute, Lekki, Egbeda, Akowonjo, Shasha, Iyana-Iba, Badagry among others thereby inhibiting movement by private and commuter vehicles.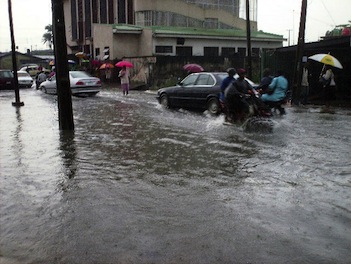 Many commuter vehicles were off the road, while the few ones that operated plied only routes considered less prone to flooding. The bus driver inflated the fares astronomically.
The flood practically made roads impassable as people already drenched by the rain waded through to their various destinations on foot.
P.M.NEWS finding revealed that the situation was so terrible in different parts of the state that private and commuter vehicles broke down inside the flooded roads.
Other motorists had to turn back when movement became harrowing.
A commuter bus driver, Mr Kunle Ayeni, told our correspondent that the downpour adversely affected business as many residents remained indoors.
He, however, expressed optimism that some residents may still troop out once the rain subsided.
Another bus driver, Chukwudi John, said that only a few residents were out and this may result in a serious decline in the day's earnings.
A motorist, Tade Teslim, described his experience as harrowing and that he had to drive against traffic for him to be able to get to his office in good time.
According to a commuter, Kunle Adesuji, "If you weren't at the bus stop this Wednesday morning you wouldn't know what people went through. The people are not smiling o. Government has to do something about this."
A visit to some major markets in the metropolis revealed that activities were at a low ebb at the time of filling this report.
A foodstuff vendor at Oke-Odo Market in Agbado-Oke-Odo LCDA, Mrs Afusat Ogunsakin, blamed the development on the early morning downpour which forced many residents to remain at home.
She however, expressed the hope that business might still pick up after the rain had stopped.

Load more