Kazeem Ugbodaga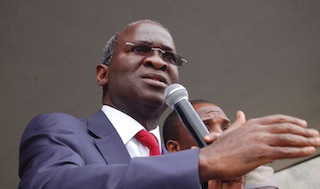 Lagos state governor, Babatunde Fashola and the State Chapter of the All Progressives Congress, APC, have called on Lagosians to resist the activities of the SURE-P/FERMA Federal Taskforce on Lagos roads.
The governor, who spoke at the 5th Anniversary of Uniformed Voluntary Clubs in Lagos State Public Schools, condemned the creation of a parallel and unlawful traffic agency to manage traffic on State and Federal roads in Lagos, saying such creation amounted to a misuse of the Subsidy Re-investment and Empowerment (SURE-P) programme funds.
Fashola noted that since the agencies authorized by law to manage traffic on the state's and federal roads – the Lagos State Traffic Management Agency (LASTMA) and the Federal Road Safety Commission (FRSC) – are fully on ground in the state, the deployment of some men and women in black uniform on the same roads must be for purposes other
than traffic management.
"They have no right to manage traffic ; the only agencies empowered by law to manage traffic in Lagos is LASTMA and Federal Road Safety on federal roads, and citizens should just resist them and refuse to cooperate with them," the governor said.
He expressed regrets that instead of re-investing the oil subsidy fund, which, according to him, was the savings on the oil subsidy following the expenditure of over N2 trillion, to empower Nigerians and improve their lives, it is now being dissipated on political organizations in wanton desperation to win elections, adding that such misuse of the funds was a total departure from its purpose of improving the lives of Nigerians.
"It is for Nigerians and Lagosians to now ask themselves honestly whether the Federal Government and President have been honest with us, because they said this SURE- P money, would be used to improve the life of Nigerians," he said.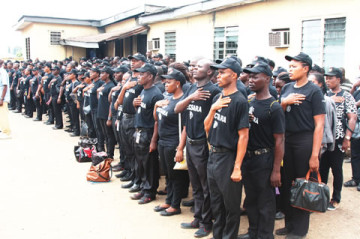 "I know that in the season of elections, you will see all sorts of misbehaviour. The reports were brought to me that they were men of FERMA. I think that is what they have done with SURE-P money. They told us that the savings were going to be used to improve our lives, so you see how it is improving our lives, setting up an organization that has no law two or three months before elections; an organization that does nothing," he said.
Also, the Lagos State chapter of the APC alerted Lagosians and all Nigerians of the sinister plan by the Peoples Democratic Party, PDP-led Federal Government to sponsor a massive breakdown of law and order in Lagos through the deployment of hoodlums and thugs under the guise of SURE-P Federal Taskforce.
The party said that these hoodlums who are being recruited and armed ahead of the 2015 general elections were being deployed and armed to cause crisis and massive breakdown of law and order in Lagos using the control of traffic.
In a release in Lagos, signed by the Lagos State Publicity Secretary of the APC, Joe Igbokwe, the party said that what the PDP is doing is clearly recruiting hoodlums and brigands for the purpose of causing a breakdown of law and order in Lagos.
He said Lagosians must confront this evil plot to throw the state into crisis and warned that no one should take the civility of Lagosians and the Lagos State Government for granted.
"On Monday, we witnessed the complete breakdown of law and order and breakdown of traffic in Lagos when these hoodlums under the guise of SURE-P federal taskforce went on the rampage, fighting LASTMA officials with cudgels and inflicting harm on them, all in a bid to take over control of federal roads in Lagos.
"We note that PDP leaders have been making rounds in the camp of these hoodlums, where they were quartered and have been distributing monies and other inducements to them in readiness for their real roles as thugs for PDP politicians in 2015.
"Lagosians, note that most of these thugs are doing private domestic works in the private residences of the leaders of PDP in Lagos and this is not far from the real missions of these thugs who are at the beck and call of PDP members for reasons that are far from patriotic," the party said.
According to APC, "we can say that we saw this coming. It will be recalled that when the recruitment for these hoodlums started, we warned of the dubious nature of these hoodlums. But this was denied by authorities of the Federal Ministry of Works and other agencies. But we knew the dubiousness of these denials obtains in the fact that as they try to make these denials, the recruitment and arming of these thugs right under their facility increased.
"We have warned that these are ghouls being recruited for the task of destabilizing Lagos in the same fashion former minister, Adeseye Ogunlewe did and which ended up in bitter political frustration for him.We note that these political thugs who are dressed in black uniform and addressed as SURE-P Federal Taskforce have recently come up with what they term their duties and these are: to protect federal properties in Lagos, right of way, setback, traffic control and enforcement."
The party said it was still at a loss over the obsession of the PDP and the Jonathan government with this project of sponsoring disruption and mayhem in Lagos, wondering whether Lagos is the only state where there were federal roads in Nigeria.
"We wonder how control of traffic in Lagos roads should be the function and responsibility of the federal government even when it is obvious that this present government has done nothing either to repair the worsening state of federal roads or adding even one kilometer to the federal roads in Lagos.
"Lagos APC is calling on all Lagosians, traditional rulers, stakeholders and leaders of thought to stand up against this act of political desperation. We urge all Lagosians to look out for these hoodlums and resist them for what they are–sponsored political thugs out to cause breakdown of law and order in Lagos. We warn that Lagos should not be turned to a theatre of blood by desperate political wayfarers who want to set the state on fire in a bid to realise their selfish ambition."

Load more