Kazeem Ugbodaga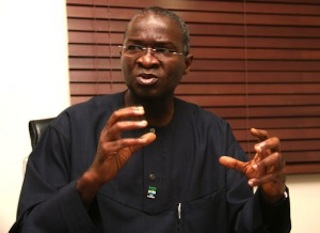 Ahead the distribution of the Permanent Voters Cards, PVCs, in Lagos, Governor Babatunde Fashola has queried the disappearance of 1.447 million voters from the Lagos voters' list and called on the Independent National Electoral Commission, INEC, to explain the disappearance.
This coming as the governor declared Friday as holiday for all public servants to enable them collect their PVCs. The distribution of the PVCs kicks off in Lagos on Friday and will end on Sunday.
During a statwide broadcast on Wednesday, Fashola said he was shocked that INEC declared that it would distribute 4.8 million PVCs in Lagos State, whereas, during the last election in 2011, the voters' list in Lagos was 6.247 million voters.
"I am concerned about the report of 4.8 million voters in Lagos State. INEC owes us explanation. During the last election, the voters' list in Lagos was 6,247,845 voters. We want to know how 1,447,804 million voters disappeared from the voters' list.
"I am worried whether this is the beginning of a plan to disenfranchise Lagosians to vote. Our government will stand for all eligble voters to have their names in the register unless INEC could prove why their names were missing on the lists.
"INEC has to show to us what has suddenly changed, there must be explanation. It does not make sense to say we are 6.247 million and now say we are 4.8 million. There must be explanation," he reiterated.
The governor added that with the commencement of the distribution of the PVCs, election process had already begun, urging eligible voters who have turned 18 years to go and register.
"You have to register as a voter to be eligible to vote. We must take it seriously to make sure our names are in the voters register. Go to the polling centre to collect your PVC. No business or job can be more important than to collect your PVC. Between 7-9 November, for those who want to collect the PVC, they should go our and collect them," he said.
The governor stated that for those who had lost their temporary voters card and had not registered previously, there is a provision for them to begin fresh registration between 12 and 17 November. Those who have not register or cannot find their names should register on 12-17 November. This is in the second phase.
Fashola added that civil servants would have Frday as work-free day to collect their PVCs, while appealing to other employers of labour to close for work early on Friday to allow their workers to go out to collect their cards.

Load more