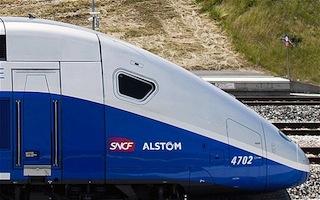 The French government on Wednesday authorised the sale of most of Alstom's energy assets to US group General Electric, clearing the way for a 12.4 billion euro deal reached in June after long and fierce negotiations.
Economy Minister Emmanuel Macron "gave his authorisation to General Electric (GE) for the realisation of its investment project in France with Alstom and the creation of an industrial alliance between the two groups in the energy sector," his ministry said in a statement.
A shareholders' general meeting will be held December 19 on the deal, the French company said.
French government approval of the deal was needed because of a decree this year that gives Paris veto rights over foreign bids for "strategic" French companies, notably those in the energy and transport sectors.
Alstom is involved in power generation and building rail systems.
The economy ministry said it was satisfied that "state interests" in France's nuclear activities and energy security were "fully taken into account" under the deal.
GE in June won a fierce two-month battle to buy most of Alstom's energy assets, which represent around 70 percent of the French conglomerate's revenues, for 12.35 billion euros (worth $16.82 billion at the time and $15.42 billion at current exchange rates).
GE will take over Alstom's lucrative gas turbine business completely.
But GE will also take on Alstom's nuclear, steam turbine, offshore wind and hydro power businesses, which it will run as 50-50 joint ventures with French shareholders including, most importantly, the government.
And it will fold its electricity grid business into Alstom's, also to be run as a 50-50 joint venture.
Meanwhile it will hand its own train signalling business to the Alstom's high-speed rail operation — which makes France's famed TGV fast trains — and which will then be the core business of Alstom.
None of that was part of the US titan's original proposal, but it faced a French government challenged by recession and soaring unemployment and determined to protect the jewels of French industry.
To seal the deal, GE had to pledge to create jobs in France when it might have originally thought to make gains through consolidation. It agreed to the government holding key blocks of shares in the joint ventures, and granted the government a veto over key decisions.
Among concessions it had to make: a pledge to pay penalties of 50,000 euros for every job out of the 1,000 promised that it fails to create in France.
The French group on Wednesday released its half-year fiscal results for April to end-September that showed a 32 percent drop in net income to 255 million euros.

Load more