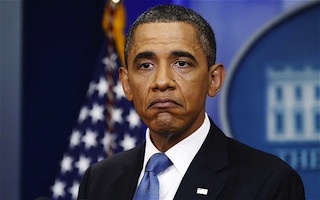 China's state-run media on Wednesday decried Barack Obama as a banal leader who has done an "insipid job", days ahead of a visit by the US president.
The editorial in the Global Times, which has close ties to China's ruling Communist Party, came as the Republicans took control of the US Senate from Obama's Democrats.
"Obama always utters 'Yes, we can,' which led to the high expectations people had for him," the Global Times wrote, referring to Obama's 2008 campaign-trail mantra.
"But he has done an insipid job, offering nearly nothing to his supporters."
"US society has grown tired of his banality," it added.
Although the US economy has improved gradually since the 2008 recession, the national mood is far from buoyant, with a CNN exit poll on Tuesday showing 54 per cent of voters disapproved of how Obama was handling his job.
The US president will be in China from November 10 to 12 for a two-day Asia-Pacific Economic Cooperation summit, followed by a state visit.
In a speech in Washington ahead of the trip, US Secretary of State John Kerry on Tuesday called the US-China relationship the "most consequential" in the world, warning that it needed to be "carefully managed".
He maintained that the US remains "deeply concerned" by mounting regional tensions — Beijing has disputes with Japan and several of its South China Sea neighbours — and that "we do not simply agree to disagree when it comes to maritime security".
Beijing's foreign ministry responded Wednesday that differences between China and the US are "natural" given the two countries' "different histories, cultures, social systems and economic development status".
"Both sides should respect each other, seek common ground, and handle these differences in a constructive way," said Chinese foreign ministry spokesman Hong Lei.
The Global Times spared no criticism of Obama, particularly on foreign policy. In its editorial, the paper argued that Obama took "US troops out of Iraq and Afghanistan, but left no peace".
"Osama bin Laden was killed during his tenure, but the (Islamic State) has emerged from the Middle East," it wrote.
The newspaper noted the "many thorny problems" Obama has encountered during his six years in office, including the "limited tolerance and acceptance" he has received as the first African-American president.
It also observed that his tenure came "in the midst of a time when partisan politics is becoming more extreme".
Obama's "best performance is empty rhetoric", the paper said, and suggested that Western political systems were fundamentally flawed.
"Bush, who dared to do everything, and Obama, who dares to do nothing, come from different parties but have the same destiny," the paper wrote. "Is this their problem or the problem of the US system?"
"With China's rise, we gradually have the ability to have a clear understanding of the US," the paper concluded. "The country is too lazy to reform."

Load more