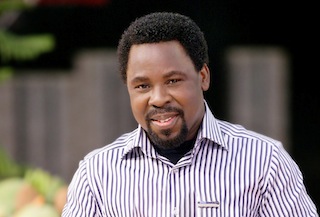 Prophet Temitope Joshua, the founder of the Synagogue Church of All Nations, on Wednesday said he was yet to be "personally served" the witness summons issued by the Lagos State Coroner, Mr Oyetade Komolafe.
Joshua made this known through his counsel, Mr Olalekan Ojo, at the ongoing Coroner's Inquest into the 12 September collapse of a guest house within the church.
NAN reports that the inquest was set up by the Lagos State Government to investigate the incident which led to the death of 116 persons.
Komolafe had slated 5 November for Joshua and the contractor, who handled the project, to appear before the court.
But on Wednesday, Ojo informed the court that the bailiffs were unable to effect the proper service on Joshua as required by law.
He said though the bailiffs went to the church premises in Ikotun Egbe area of Lagos, the cleric was not around at the time of their visit.
Ojo said: "I do not want an insinuation to be made that the prophet was served and he did not come to court.
"He has been in touch with many families who lost their loved ones in the incident. The bailiffs merely gave the witness summons to one of the evangelists in the church, but the law says they should personally serve the prophet."
According to him, the contractor has not also been served because the court is yet to get his name and address.
Ojo also declined the coroner's request that the summons should be served on him on behalf of Joshua.
Following the development, Komolafe agreed to reschedule the appearance of both witnesses, adding that the church should provide the name and address of the contractor.
"The prophet (Joshua) should assist the court to assist him. As the chief mourner, we don't want to inflict more pain on him. He should not put himself at variance with the law," the coroner said.
Testifying earlier, Dr Olufemi Oke-Osanyintolu, General Manager, Lagos State Emergency Management Agency (LASEMA), told the court that 131 persons were rescued alive from the site of the collapsed building.
Oke-Osanyintolu said that LASEMA, working in collaboration with Synagogue Church members and other rescue agencies, also recovered 80 bodies from the collapsed building.
He, however, said that the crowd of bystanders and sympathisers prevented the agency from gaining quick access to the scene which could have led to the rescue of more victims.
According to him, the rescue team was severally assaulted by some persons within the crowd and prevented from taking pictures.
"I will appeal to the general public in Lagos State that we have a structure in place and whenever there is any form of emergency they should call us.
"They should also give us the enabling environment to perform effectively and efficiently," he said.
NAN reports that the matter was adjourned till Nov.6 for continuation of hearing.

Load more