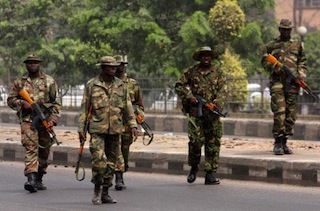 Sixteen men who were arrested by Nigerian soldiers in the country's northeast were found dead just hours later with bullet wounds, community leaders said on Thursday, demanding an inquiry.
Troops rounded up 17 people, including an imam, from the Dogo Tebo area of Potiskum in Yobe state as they left a mosque after morning prayers on Wednesday.
Residents and hospital staff said the bodies of all but the imam were later found in the morgue at the Potiskum General Hospital.
"All the bodies have gunshot wounds on them," said a nurse, who asked not to be identified because he was not authorised to speak to the media.
The bodies had been brought in by soldiers and were formally identified by community leaders and residents from Dogo Tegbo, he told AFP.
One resident, Tukur Danu, said the cleric was not among the dead and added: "We are worried about what they could do to him."
Potiskum is the commercial hub of Yobe state, which with neighbouring Borno and Adamawa state has been under emergency rule since May last year because of the Boko Haram insurgency.
On Monday, at least 15 people were killed and some 50 others were injured in a suicide bombing targeting a major Shia Muslim festival in Potiskum.
The head of the Shia community in the city, Mustapha Lawan Nasidi, said at the time that several other people died when troops who deployed to the scene opened fire.
Community leaders believed the 16 men were picked up and killed because all of them were from the Kanuri ethnic group that forms the bulk of Boko Haram's membership.
"We demand a probe into this unjustifiable murder," said one community leader in Dogo Tebo, who asked not to be identified for his personal safety.
"We believe they were killed on suspicion of being Boko Haram because they were Kanuris."
All those seized were related either by blood or marriage, according to another leader.
"The government should look into this cold-blooded murder and ensure justice is done because being a soldier is not a licence to kill at will on mere suspicion," he added.
"Our fear is we don't know what they will do next," he said, adding that three more people were arrested late on Wednesday in the same area.
Dogo Tebo resident Maigana Kalli said that ordinarily, anyone arrested on suspicion of belonging to Boko Haram is taken to the regional army base in the state capital, Damaturu.
AFP contacted the army in Damaturu and the capital Abuja by phone and by text message but there was no immediate response.
– Beheadings report –
Human rights groups in Nigeria and abroad have previously accused Nigeria's military of carrying out extra-judicial killings in the five-year fight against Boko Haram.
Amnesty International said in March that there was "credible evidence" that more than 600 people were summarily executed in the Borno state capital, Maiduguri, after a Boko Haram jail break.
Concerns have also been expressed about atrocities perpetrated by vigilantes, who have assisted the military against Boko Haram.
Last Friday, vigilantes in the Borno town of Biu said they and troops had decapitated 41 Boko Haram fighters who were planning a raid in the village of Sabon Gari, in the south of the state.
Two residents said the heads were put on spikes and paraded through the town.
"It was like hunters displaying their game after a hunting expedition," said one, Silas Buba.
Both Amnesty International and Human Rights Watch (HRW) said they were aware of the reports.
For HRW's Nigeria researcher Mausi Segun, the alleged beheadings were consistent with the vigilantes' recent conduct.
"They boldly admit to extra-judicially killing and mutilating bodies of suspected members of Boko Haram," she told AFP, calling for a full investigation.

Load more