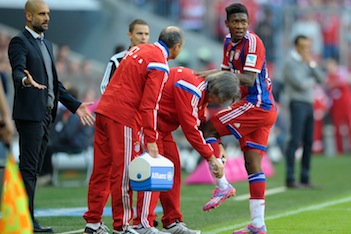 Pep Guardiola says Bayern Munich's ever-present utility-man David Alaba will be sorely missed as club doctors revealed he needed knee surgery on Thursday.
The 22-year old suffered a ruptured ligament and meniscus damage to his right knee during the 2-0 win over AS Roma in the Champions League on Wednesday.
He came off after setting up Franck Ribery's opener on what was his 17th start for the Munich giants this season.
"He could be out as long as two or three months but maybe we'll get him back after Christmas," Bayern coach Guardiola told the club's website.
Guardiola explained that Alaba's versatility meant his absence would leave not one gap on the pitch, but many.
"He's a complete player, we're losing a guy who can operate in several positions, all over the pitch in fact. So we're losing a great guy, a top player and he'll be missed."
Bayern Munich doctor Hans-Wilhelm Müller-Wolfhart ran several hours of tests on the player on Thursday and said it may be only a question of weeks.
"It's a bitter pill to swallow," said Alaba, who generally plays left-back or midfield.
"Especially with everything going so well, for me and the club."
Alaba played 49 times for Bayern Munich as they ran to the German league and Cup double last season.

Load more