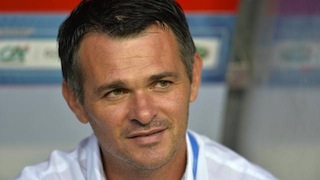 Bordeaux coach and former French international Willy Sagnol on Thursday apologised for his controversial comments about African players, saying he was sorry if some people were "offended, humiliated or hurt".
Sagnol had already insisted earlier in the week that his comments had been misinterpreted despite anti-racism campaigners calling for action to be taken against him.
Sagnol, the former Monaco, Bayern Munich and France full-back, had indicated that African players lacked "intelligence" and "discipline" in an interview with the Bordeaux newspaper Sud-Ouest.
He also declared that the scheduling of the Africa Cup of Nations puts him off signing players from the continent.
But at a press conference on Thursday, he read a prepared statement "to avoid any misinterpretation of my words".
"If through my lack of clarity and my imperfect semantics, I caused people to be offended, humiliated or hurt, then I am sorry," said Sagnol.
"The interpretation made by some people does not reflect my own thoughts and especially my humanistic convictions."
He added that his comments were made in a "sporting context and were neither political nor social".
"When I spoke of Africans being cheap and ready to fight I just wanted to talk of the younger players who arrive in Europe with a desire to succeed and with the will to escape precarious situations.
"And when I talked of intelligence, I was talking of tactical intelligence obviously. In no way was I talking about intelligence in the usual sense of the term, that of individuals."
Sagnol also blasted critics who condemned his remarks as being racist.
"I am 37 years old. Thirty-two of those have been spent in football dressing rooms. I have never had a problem with this before," he added.
For the players of Bordeaux, "the subject is closed which indicates that there is no problem with them."

Load more