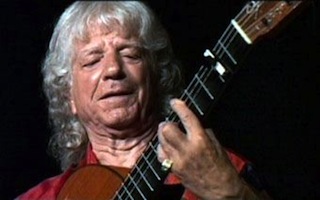 Manitas de Plata, the gypsy guitarist of humble origins feted by Picasso and Dali who enflamed flamenco-lovers the world over, has died aged 93, his daughter announced Thursday.
One of France's best-selling artists, the man who in 1921 was born Ricardo Baliardo in a caravan in southern France passed away overnight Tuesday in a retirement home surrounded by his extensive family, said Francoise.
Encouraged by his uncle, he mastered the guitar aged only nine without being able to read a single note of music.
He later changed his name to Manitas de Plata — literally "little silver hands" in Spanish — and played in cafes in the French Riviera where he started hanging out with the poet Jean Cocteau, the painters Pablo Picasso and Salvador Dali, and the actress Brigitte Bardot, all adepts of the sunny south.
He later conquered famous venues around the world, including New York's Carnegie Hall, sealing his reputation abroad. Altogether, he sold some 93 million albums globally.
A lover of beautiful women and fancy cars, Manitas de Plata spent the money he earned from his music on his extensive family — wives, children, uncles, nephews — and there was nothing left by the time he died.
He once acknowledged not knowing exactly how many children he had — somewhere between 24 and 28. He recognised at least 13 of these.

Load more