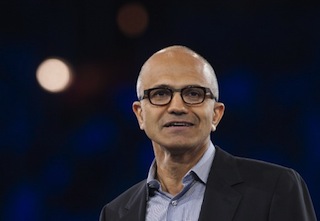 Microsoft announced Thursday it was making its Office software suite available for free to users of rival mobile operating systems from Apple and Google.
Users of Apple iPads and other devices and those with Android tablets will be able to use the apps to store documents without a subscription, Microsoft said.
The software includes the popular document software Word as well as the Excel spreadsheet program. Microsoft earlier this year released the Office app for iPad, but users needed to pay an annual license fee for cloud-based Office 365.
"Today, we're taking the next major step to bring Office to everyone, on every device," Microsoft vice president John Case said in a statement.
"So, starting today, people can create and edit Office content on iPhones, iPads, and soon, Android tablets using Office apps without an Office 365 subscription."
Case noted that subscribers will "benefit from the full Office experience across devices with advanced editing and collaboration capabilities," and other advantages including cloud storage and integration with Dropbox.
Microsoft said its Office for iPad application had been downloaded 40 million times, and that a new version was being released this week.
Microsoft has some one billion customers around the world who use Office in some form. The cloud-based Office 365 will still require a subscription for use on a standard PC.
Office for iPad and Office for iPhone apps are available in 29 languages and 136 countries, Microsoft said. It will be offering a preview version of Office for Android for users of some devices.

Load more