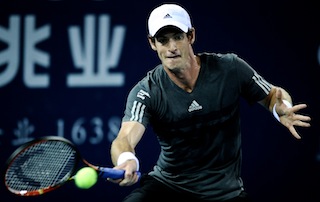 Former Wimbledon champion Andy Murray was announced as a global ambassador for the World Wildlife Fund (WWF) on Thursday.
Murray has lent his support to the WWF's fight against poaching and illegal wildlife trade and will help to raise awareness through an initiative in Nepal that trains dogs to track down poaching activity within Chitwan National Park.
Tigers, rhino and elephants are all under threat in Nepal due to poaching for animal parts.
In honour of Murray's support, a puppy which is part of the sniffer dog training programme, has been named after the 27-year-old Scot.
Murray, who is well known for his love of dogs, said: "I've followed WWF's work on the illegal wildlife trade for a while now and have been looking for a way to support the campaign.
"I think it's incredibly important that this trade is prevented and the sniffer dog programme seemed like the perfect venture for me to get behind.
"I know from my own dogs how clever they can be and it's fascinating how these sniffer dogs communicate with their handlers."
Murray, a two-time Grand Slam champion, is currently preparing for the ATP Tour Finals, which get underway at London's O2 Arena on Sunday.
The world number six has been drawn in the same group as Roger Federer, Kei Nishikori and Milos Raonic.

Load more