The Navy SEAL who shot Osama bin Laden dead in the US special force's most famous operation, the raid on a house on Abbottobad, in Pakistan, on 2 May 2011, has been revealed by TheMail Online.
He is Rob O'Neill, a highly-decorated 38 year old, who quit after 16 years service. He is scheduled to make an appearance on Fox News later this month, reported Mail Online.
Rob's father, Tom O'Neill, tells MailOnline, "People are asking if we are worried that ISIS will come and get us because Rob is going public. I say I'll paint a big target on my front door and say come and get us."
Rob O'Neill, 38, is a former member of SEAL Team Six who has been portrayed on screen in Zero Dark Thirty, Captain Phillips and Lone Survivor.
He is one of the most distinguished members ever of the elite force – but now faces being frozen out of its circles for revealing its most closely-held secrets.
O'Neill was personally congratulated for killing bin Laden – in his account at close range with three shots to his forehead – during the SEAL raid on Abbottobad, in Pakistan, on 2 May 2011.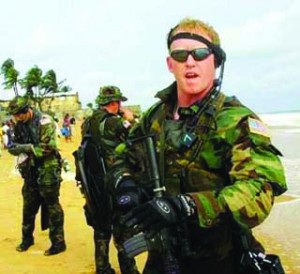 Questions have previously been raised over the exact narrative of how bin Laden came to die, although the dispute centres on an alternative account which claims O'Neill shot him once, leaving him mortally-wounded and the terrorist was killed by two other SEALs with further shots to the chest rather than forehead.
O'Neill's decision to speak out was prompted by losing some of his military benefits by quitting the SEALs after 16 years rather than staying for a full 20 years of service.
O'Neill grew up in Butte, Montana, a former copper mining boomtown that has now fallen on hard times.
Tom O'Neill lives in a single story home with a garage full of stuffed animals — including a bear, moose, caribou, big horn sheep and several deer — shot by the two men. A full stuffed kodiak bear has place of pride in his living room.
O'Neill has said the basic reason he became a SEAL was a teenage romance gone wrong. At 19 he went to a Navy recruiter's office in an attempt to get over his lost love.
But his father gave a different story in his exclusive interview with MailOnline. "We were going hunting and a friend asked us to take a guy who was a Navy SEAL with us," said Tom O'Neill, 65.
"We were expecting someone who was 6 ft. 8 in. who could lift a house with his bare hands, but he was this normal guy. And Rob said if this guy could be a SEAL, then so could he."
In total he was deployed on more than a dozen tours of duty in active combat, in four different warzones, including Iraq and Afghanistan. In the course of those tours he undertook more than 400 separate combat missions.
He was decorated 52 times, leaving as senior chief petty officer. His decorations include two Silver Stars, four Bronze Stars with Valor, a Joint Service Commendation Medal with Valor, three Presidential Unit citations, and two Navy/Marine Corps Commendations with Valor.
Details of three of his missions have been turned into Hollywood action hits.  He was the lead jumper on the Maersk Alabama, the ship taken over by Somali pirates, whose rescue turned into the Oscar-winning movie Captain Phillips.
"He was the first man out of the bird," his father remembered proudly.
He helped save SEAL Marcus Luttrell, the one man who lived to tell of a failed mission to capture a Taliban leader in Afghanistan. That made it to the big screen as 'Lone Survivor.'
"He is still friendly with Marcus, they had dinner together just the other day," said his father.
And then there was 'Zero Dark Thirty,' the Oscar-nominated story of bin Laden's killing.
Although he had previously been interviewed about the shooting of bin Laden, he remained entirely discreet about his role.
But deciding to speak publicly may surprise some. In the Esquire interview his wife spoke about her concerns over a retaliatory attack.
"Personally I feel more threatened by a potential retaliatory terror attack on our community than I did eight years ago," his wife said in 2013.
He has become a motivational speaker with an official biography which details a very generic version of his exploits.
O'Neill is now the second SEAL of the 23 involved in the raid to make his identity public.
The other is Matthew Bisonnette, who wrote an inside account of the mission that killed Osama bin Laden. Bissonnette released his controversial book No Easy Day in 2012 – under the pen-name Mark Owen – and immediately faced the ire of the Pentagon and fellow SEALs.

Load more