Abiodun Onafuye/Abeokuta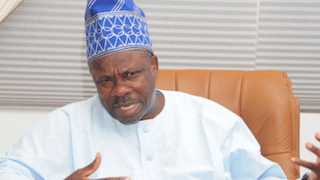 Governor Ibikunle Amosun of Ogun state, southwest, Nigeria has appealed to the Independent National Electoral Commission (INEC) to extend the date for the distribution of the Permanent Voters Card (PVC) in the state to enable residents participate fully in the exercise.
Amosun, who was at Ajura Ward 4 in Obafemi Owode local government area of the state today alongside his wife, Olufunsho Amosun to collect their cards told newsmen that the people complained that their names were missing on the list pasted by INEC.
The governor appealed to INEC for extension of the exercise, saying, "There were too many irregularities according to reports reaching me across the state. I want to commend INEC for this exercise but they appear not to be ready, because there are too many hitches.
"I want to appeal to INEC to consider extending the days. I also want to appeal to you, my people to take the pain to do whatever INEC tells you to get your voter's cards because without it you cannot vote," Amosun pleaded.
At Ago Oba Central Mosque in Ward 13, Abeokuta South local government, where the former governor, Chief Olusegun Osoba went for his PVC, the officials located his name but said he had to go to INEC office to collect his card.
According to the officials, "there is a special arrangement for dignitaries in the state to collect their cards at INEC headquarters." The former governor and Akinrogun of Egbaland, Aremo Olusegun Osoba, however declined to comment after the exercise.
Residents of the area however complained of missing names and some with names on the register were unable to collect their cards because INEC did not print them.
A legislator representing Abeokuta South local government Constituency 2, Hon. Oluwafemi Wilfred Allen Taylor said his name was missing from the register, appealing to the people to re-enroll afresh for them to be able to vote at future elections.
Similar experience was witnessed at Omida, Ward 15, also in Abeokuta Township, where many names were missing on the displayed register.
People also complained of lateness of the INEC officials, hinted that most of them did not arrived the polling centers until past 10:00 a.m. when most of the people have been at the centers as early as 7:00 am.
"We left everything to come here. The officials did not come until 10am. My husband has called me to complain about similar experience. He had collected his card; my own name is not on the list. They said I have to come back and start the process all over again. The state government has said the card is a must to access certain services,
that's why I am here," a woman who preferred anonymity lamented.
Meanwhile, most residents of Ifo local government area of Ogun State today staged a peaceful protest to express their dissatisfaction towards the distribution of the Permanent Voters Card in the area.
The protesters, who were mainly politicians, our correspondent gathered, rose from a meeting and took to the streets moving straight to the local government secretariat and later to the INEC office in the local government.
They were armed with placards with various inscriptions, all pointing towards the irregularities of INEC, which according to them is a ploy to deprive them from voting during the election in February, 2015.
One of the leaders of the protest, Gafar Abiodun, who spoke with our correspondent, describe the development as a ploy by the electoral body to rig election in 2015.
He explained that the same material was made available for the Ogun state Independent Electoral Commission for the conduct of local government election two years ago.
According to him, "out of the 220 polling units in the local government, PVCs will be distributed only in 95 units while those of 115 units were missing," alleging that, "it was a deliberate attempt at disenfranchising the people of the local government and a means of preventing people from performing their civic right.
"How on earth could INEC boast that it would conduct credible, free and fair elections when it cannot successfully distribute PVC to registered voters? How would a whole electoral commission not be able to keep data of registered voters, when pepper sellers on the street can keep their temporary voter card?
"How could INEC that supplied data to OGSIEC for the conduct of local government elections in 2012 say there is no backup for their data, from where did they get the materials supplied to OGSIEC? How would a local government with 220 polling units be able to distribute PVC in only 95 units and 115 units are missing?
"Is this not a deliberate attempt at disenfranchising our people? Is this not a means of preventing our people from performing their civic right? Is this not the beginning of rigging? This indeed is a slap on INEC and an indication that 2015 general elections would not be generally accepted. I can't believe my people in Ajuwon/Akute who took pain to get registered in 2011 will not get their PVC and they will have to start all lover, this indeed is a wicked act. A ward with 38 units will only have PVC for 3 units," Abiodun said.
The INEC Commissioner in the state, Sam Olumekun, has however assured that all electorate in the state will have their cards before the next election.

Load more