Jamiu Yisa
Anger and frustration have trailed the much vaunted and much publicised collection of Permanent Voter's Cards (PVCs) which was supposed to kick off in Lagos, today, Friday, 7th November, 2014.
The exercise which was to be held in 11 local government councils across the state did not see the light of the day after all.
As at 1.20pm, the situation report in the 11 local government areas the exercise was supposed to take place came in, there was no Independent National Electoral Commission (INEC) anywhere in all the local governments.
During P.M.NEWS visits to Lagos Island, Lagos Mainland, Ifako Ijaye, Agege, Ikeja and Ojo, no collection of PVCs took place in any of the aforementioned local governments leaving residents who have trooped out as early as 8am frustrated and angered.
Most of them have thus returned home in anger.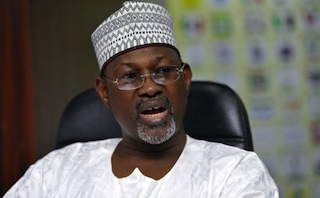 At Lafiaji polling units of 006, 007 and 008, a member of the Lagos State House of Assembly, Wahab Alawiye-King, waited with other residents but to no avail.
"We have been here since 8am, but you can see that there is no INEC official in sight. I have been trying as much as possible to talk to our people to remain calm but apparently it is either INEC is not prepare for this exercise or there is a hidden agenda," the lawmaker, who represents Lagos Island State Constituency 2, said.
In Ojo Local Government, a member of the House of Representatives for the area, Toyin Suarau, told this medium at his Iba polling centre that the people of the area are ready to collect their PVCs but apparently INEC is not ready.
"The people are here but INEC is not," he said while speaking with P.M.NEWS around 1.22pm.
Also in Ojo, House of Representatives aspirant, Muhammad Mubasiru Hassan, told this medium that there was no INEC official anywhere in the town.
In Agege, a dejected Secretary of the All Progressives Congress (APC) in the local government, Ganiyu Eegunjobi, told our correspondent that the people realising the importance of the exercise trooped out to collect their PVCs.
"However, INEC has another agenda as its officials cannot be found anywhere in this local government. It is not only here (Isale Oja) but also all over Agege according to the situation I get from our field officers," a dejected Eegunjobi said.
His report was corroborated by former Chairman of the local and senatorial aspirant, Chief Enock Kolapomoye Ajiboso, who stated that it was disgusting that INEC after all the noise failed woefully in this particular exercise.
As at 1.35pm in Lagos Mainland, there was no collection of PVCs in sight.
Immediate past chairman of Yaba Local Council Development Area (LCDA), Olajide Jimoh said that residents turned out en masse to collect their PVCs but were left frustrated with non-appearance of INEC officials.
Similar reports were gathered all over the 11 local governments the exercise is supposed to take place and as at the time of this report there has not been any official reaction from INEC.

Load more