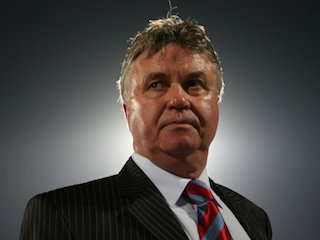 Guus Hiddink will quit as Netherlands coach if the struggling World Cup semi-finalists lost to minnows Latvia in their next Euro 2016 qualifier on November 16, the veteran boss said Friday.
The 68-year-old former Australia, South Korea and Russia coach has seen the Dutch lose 2-1 to the Czech Republic and 2-0 to Iceland and have just three points from three games.
They are six points behind the Czechs and Iceland in their qualifying group.
"If we lose (against Latvia) I will quit as coach. Would a draw be sufficient? I don't think so," he told a news conference on Friday.
The Netherlands finished third at the World Cup in Brazil under Louis van Gaal who has since taken over at Manchester United.

Load more