Afro-pop music star Ayo 'Wizkid' Balogun is one of the headliners for Hennessy Artistry this year. In this chat with FUNSHO AROGUNDADE, the EME/StarBoy artiste shares his experience working with 2Face Idibia as co-headliners of the artistry, the review of his sophomore album AYO and how he has been spending his earnings
How has it been working as one of the Hennessy Artistry headliners this year?
I feel really blessed to be part of Hennessy Artistry this year. I am happy to be associated with the brand and I thank God for the opportunity to work with 2Face Idibia. He has been like a legend in the Nigerian music industry. He is one of the pioneers who paved the way for young artistes like me. So, it is a great feeling working with such individual. This will be the first time we actually got into the studio to finish a track. I really feel blessed. Thanks to Hennessy.
How have been able to build the Wizkid brand to such a popular one?
It looks like it has taken me all my life to build this brand. Before I went into making music, I already had what I wanted to be in my head. I was conscious of what I wanted to be and definitely knew I wanted to build a brand. In my journey in this music industry, I had wanted people to know the brand, not my name or my music and I try to stay out of trouble and sometimes avoid things happening. So, I am working on my brand and I want to take it to the global level.
In what way are you working to sustain the brand?
The truth is that I worry about sustainability of the brand and that's why I work endlessly every day and night to make sure the brand Wizkid is here, even when I am no longer here. When I finally leave this world, I want to leave a legacy that people will follow. I am also building the Star Boy brand to help young artistes and producers. I want to create a platform for other talented people to grow creatively and push out their music. Star Boy is about a year old now, and our boys are getting constant airplay and nominations at various award platforms in Nigeria and abroad. So it is a great a feeling and I am liking it.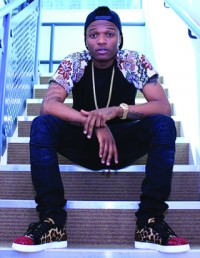 You have written a lot of hit songs. Which one would you consider the most challenging song ever written?
I would say 'Jaiye Jaiye'. This is because when I wrote the song, I was a bit worried about whether people would accept the song. And that song is really special to me. So when I called Femi Kuti and I told him about the song, I wasn't expecting his instant acceptance. When he said 'yes' to my request immediately, I was shocked and happy. The following day, we entered studio immediately and started to work on the song and I happy that I didn't disappoint him.
Most people are usually afraid of breaking the sophomore jinx and you have just released your second album. What has been the response of music fans to the album?
The acceptance of my new album Ayo (Joy) has been awesome. Every day, people love the album and discover new tracks from the album. Before the release, I had already put out most of the songs as singles. Songs like Ojuelegba, In My Bed, Show Me The Money among others are already hit with people. It feels really good. When I was putting together the album, I tried to make a conscious decision not to change my style of music too much. I think people are already having this thing in their heads that because I am working with some international artistes, I might try to change my style of music or what I would sound like. But that is not true. I can never change my style of music for anyone.
Many critics have praised you for the track One Question. How did you come up with such heavy highlife track?
As I have said, I work endlessly to make sure that the Wizkid brand gets the needed respect. A lot of people would be thinking Wizkid is all about making party music but I have actually decided to do good music. I'm not to just make music for now, but do something that people can listen to years to come. I want to pass a message across to a wider audience. That is what I did with the track, Joy. I was talking about my life and using it to inspire others. The same thing I did with Jaiye Jaiye and Ojuelegba. So, songs like that and One Question prove to you that I am no longer an average artiste. I am very confident of the music that I make now. And by God's grace, I will definitely make things happen and take my music to global audience.
Why did you shoot the video of Show Me The Money in Surulere?
I decided to shoot the Show Me The Money video in Shitta, also known as Small London, in Surulere because that's where I grew up. I have paid my dues and there are so many stories to tell. I used to perform at all the carnivals in Surulere every December for free, including Lawanson to Brown Road. That is my hood where I was raised. So I have to pay my dues.
What's happening between you and Skales as we have not heard of any collaboration between the two of you?
Of course, I will work with Skales. He was in my house some weeks ago and he brought a track. Definitely, I am going to work with him.
How did you come about the name Star Boy?
The streets gave me the name. It's my people that started calling me that name and it stuck.
How would you react to those complaining that you like to show off your wealth on the social media? 
Haa, show off kee? But let's be honest, I didn't have any of these good things before now. So, I have to show them off to motivate people and also to thank God for blessing me with all the wealth to acquire those things.
What about those who say you are arrogant and act like a terrible person?
Well, everyone is entitled to his or her opinion. And you should also check those who claim I am a terrible person. I am not and my people know that.  Whatever any one feels,  he should not blame me for it. Everyone cannot like you; same as everyone cannot hate you. I am just being me and also being a good person. Fame has not changed me; it only added some accessories to my collections. People say I am arrogant and it does not bother me because I still show my fans love and they do same in return.
 Where are you investing all the millions you are making now?
I invest heavily in properties and jewellery. I spend more on gold. I have heard some people say they are vanities but I tell you, they are very good investment.

Load more