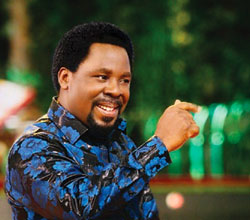 On 5 November, Pastor TB Joshua ignored the summons of the coroner investigating the collapse of a guesthouse in his Synagogue Church.
About 116 people, including 84 South Africans died in the tragedy.
The popular and controversial founder of the Synagogue Church of All Nations has been asked to appear again on 21 November.
But he may not appear, going by the sentiments of his lawyer and his fanatical supporters.
Here Apostle Paul Akarigbo, a Nigerian pastor based in South Africa offers a passionate defence of Pastor Temitope Joshua and argues why he should not be summoned before the Coroner Inquest. In his argument, Pastor Joshua should be above the laws of society.

Load more