The police at Mangoro Divisional Police Headquarters, Dopemu, Agege have arrested a lotto agent, Mr. Muka Jerry of 21, Balogun Lawe Street, Dopemu, Agege, Lagos, western Nigeria, after he beat his girlfriend to death.
A police patrol team caught the suspect with the corpse of his girlfriend called Abike Ahmed, 25, at about 2 a.m. today while trying to dump the corpse.
P.M.NEWS gathered that the lady died while fighting with Jerry in his house at Dopemu on Thursday.
Abike, it was learnt, visited Jerry in his house and a disagreement ensued during which the lady was reportedly beaten severely.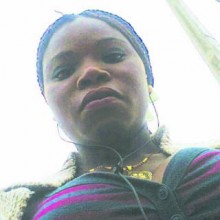 She was said to have phoned her mother to tell her that she was being beaten by the suspect.
The mother of the deceased, Mrs. Tawa Ahmed told P.M.NEWS at the police station that her daughter called her at about 10 p.m. yesterday to inform her that Jerry was beating her over something which she did not disclose.
She disclosed that she went to Jerry's house this morning only to be told by neighbours that the suspect had been arrested by the police at Mangoro.
The woman said when she got to the station, the police told her that the suspect was arrested at midnight while trying to dump the corpse of the  girl on a street.
The distraught mother revealed that the suspect usually beat her daughter, adding that she warned her to stop seeing the suspect but she disobeyed her.
"This is not the first time the suspect will beat my daughter. Jerry was fond of beating my daughter at the slightest excuse and I warned her to stop going to him but she refused. See what has happened now. He beat my daughter to death and was trying to throw the corpse away when the police caught him," Mrs. Ahmed narrated to P.M.NEWS.
The suspect is being detained at the Dopemu Police Station while the girl's corpse has been deposited at the Yaba mortuary.

Load more