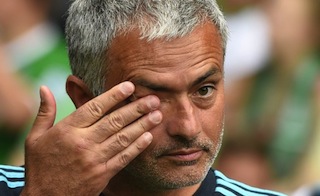 Chelsea manager Jose Mourinho has hit back at Luis Suarez's claims that he told his players to waste time in their 2-0 win at Liverpool last season.
Mourinho's side travel to Anfield on Saturday looking to stretch their lead at the top of the Premier League in their first meeting with Liverpool since that controversial clash in April.
There is little love lost between the two clubs, who have come bitter rivals in recent years, and Mourinho's blast at former Liverpool star Suarez will only add to the enmity on Merseyside.
Mourinho is angry that Uruguay striker Suarez, who left Liverpool for Barcelona in the close-season, claimed in a recently published book that he was told by an unnamed member of the Chelsea squad that the Blues had been ordered to employ spoiling tactics during a victory that effectively ended the Reds' hopes of winning their first English league title since 1990.
"Another book? Books? Have you read the books? I don't," Mourinho told a press conference on Friday.
"At 51 years old maybe I have enough stories to write a book, but I don't. But when you are 20 or 25 you write a book of what? Of when you were a kid?
"I have offers to do a book of 100 pictures I chose of my career and where I make just a little comment. But not a book to tell s*** and to criticise people and speak negative things about people."
Although Chelsea are the bookmakers favourites for the Premier League crown after an unbeaten start to the season, Mourinho is not dreaming of more silverware just yet.
Even with champions Manchester City stuttering and Manchester United and Arsenal also struggling, the Portuguese coach refuses to talk up Chelsea's chances.
"We went to City to win and United to win — we couldn't for different reasons," he explained.
"But we go to every match to win. The reality is that before the season starts that in the first 11 matches we have to go away to Man City, United and Liverpool and you know for sure you have the most difficult fixtures of every team.
"In the first 11 matches we play those three and also Arsenal. The fixtures for us were very different.
"When we leave Anfield we have finished with three of the most difficult stadiums to play all season. The points we are getting, all of them are important."
– Famous victory –
After his rant at Suarez, Mourinho was rather more restrained when asked about last season's famous victory that denied Liverpool the title.
"I don't want to speak about that game, it makes no sense, it is over," Mourinho said.
"I expect a game where Liverpool knows if they lose then they are 15 points behind. If they are 15 points in November, obviously it is not over, but it is difficult.
"If they win the match instead of 15 they are nine points behind and nine points behind is different to 15.
"It is a very good motivation for them. So I expect them to try everything to win, simple."
Mourinho was also full of praise for Reds captain Steven Gerrard, a player he attempted to sign during his first spell at Stamford Bridge.
"I think he is having a fantastic career in his club — he has an option to say for life at the same club and become a legend of his hometown," Mourinho said.
"I think it is a very respectful decision. I am never upset at that kind of option."

Load more