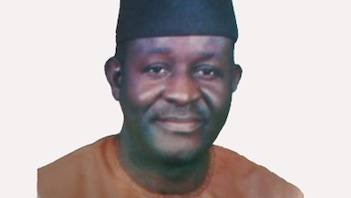 A bomb concealed in a black plastic bag killed several people in Nigeria's restive northeast on Friday, as Adamawa state governor, Bala Ngilari warned that more troops were needed to stem a sweeping advance by Boko Haram.
Speaking in Abuja, he said the Islamists controlled five municipalities in his home district, aside from the more than two dozen towns and villages they have seized in recent months.
Nigeria imposed a state of emergency in Yobe, Borno and Adamawa in May last year but many believed that Adamawa was included as a precaution.
Violence in Adamawa had been relatively contained compared with Borno and Yobe further north.
But Boko Haram has since captured significant parts of the state, underscoring the severity of the crisis, with the militants apparently advancing with little resistance south of their Borno stronghold.
Residents in Mubi, part of the governor's home district, told AFP on Thursday that the extremists had changed the town's name to Madinatul Islam, or "City of Islam" in Arabic.
Locals said the Islamists have imposed Sharia (Islamic law) punishments in areas under their control, including the amputation of the hands of accused thieves.
The fresh violence in Bauchi state came days after Islamist fighters rampaged through two towns in neighbouring Gombe, overpowering the military at a checkpoint and raiding a factory owned by the French cement giant Lafarge.
Nigeria is gearing up for general elections in February and President Goodluck Jonathan is anxious to claim successes in the brutal, five-year extremist uprising.
But the violence appears to be escalating — despite a disputed announcement by the nation's top military officer that the Islamists had agreed to a truce.
Aside from relentless Boko Haram attacks, rights groups have called for a probe into reports that vigilantes helping the military committed gruesome abuses by beheading 41 Islamist fighters and parading their severed heads on spikes.
Separately, the military has again been accused of extra-judicial killings in the northeast, raising further concern over its ability to handle the crisis.
The government insists purported peace talks with insurgent leaders remain viable but most observers are sceptical.
– Bank targeted –
The bomb attack was the second to strike the town of Azare in Bauchi state in the last two weeks.
Multiple witnesses told AFP that a man approached people queuing up at a cash point and tried to leave a black bag on a motorcycle parked nearby.
He was stopped by locals who said leaving parcels unaccompanied was prohibited following recent unrest in the area.
At least five people were killed in a bombing at a bus station just 100 metres away on October 23, an attack many in the area blamed on Boko Haram.
"It was while they were talking to him that the bomb exploded. I saw at least 10 people that looked dead," said one witness, Lamara Ibrahim, after the latest blast.
He said he was not in a position to authoritatively confirm a death toll.
Musa Usman, who was also nearby, gave an identical account of the attack and estimated that several people were killed.
Police in Bauchi did not answer calls and messages seeking comment.
Ishola Micheal, the spokesman for Bauchi's Governor Isha Yuguda, said he was aware of an incident in Azare but declined to confirm any details.
Community leaders and medical workers in the town of Potiskum this week said that 16 civilians were brought to a morgue with bullet holes on their bodies after being arrested by the military.
The report will likely raise fresh concern among experts who argue that abuses by soldiers have helped boost Boko Haram's ranks by pushing dejected young men in the region towards radicalisation.
Meanwhile, vigilantes working with the military in embattled Borno state have boasted about the mass beheading of Islamist fighters near the town of Biu, an alleged incident that Human Rights Watch said must be probed.

Load more