Chief Emmanuel Iwuanyanwu, a PDP chieftain, has stated that the North will take power of the center in 2019, urging Nigerians to support South-South in next year's general election.
Iwuanyanwu, a member of PDP Board of Trustees said this in Owerri on Friday at a press briefing on some nagging national issues.
Iwuanyanwu appealed used the opportunity to appeal to politicians from the South-East, who he said are legitimately and rightly demanding for Presidency, to subjugate their ambition to the unity, peace and stability of the country.
"I therefore strongly suggest that since the South-South region has gone four years out of the constitutional eight years, it (South-South) should be allowed to complete the eight years," he said.
He urged the South-East people to support the South-South after which the "Presidency will go to the North".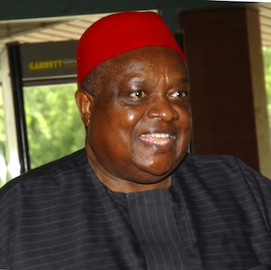 Iwuanyanwu said that the South-South had contributed substantially to the economic and social development of Nigeria.
"If they are denied the opportunity to serve their normal tenure of eight years, it may be viewed as an act of bad faith.
"We cannot afford at this moment to open up a new frontier of crisis in the South. In effect, in four years time, all Nigerians will support the presidency going to the North. After eight years in the North, the presidency will come back to the South.
"When it comes to the South, it will automatically be the turn of the South East as South West and South-South zones have had their turns," he said.
He expressed concern at what he termed the "bloody assassination of some innocent citizens of the country and the criminal occupation of large territories by the Boko Haram sects".
He called on Nigerians, especially leaders of the restive zones, to rise to the challenge and support the Federal Government's efforts to restore normalcy to the troubled areas.

Load more