Okafor Ofiebor/Port Harcourt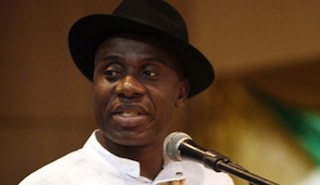 In reaction to the accusation leveled against the Peoples Democratic Party (PDP) that it thrives in rigging elections by Governor Rotimi Amaechi, the Rivers state PDP says it will checkmate the governor during general elections in the state.
The PDP stated this while reacting to a statement by Amaechi self that he never knew how the result of the voting that brought him into office came about while he was a member of the party.
In a statement signed by Jerry Needam, Special Adviser on Media to the state chairman of the Party, Felix Obuah, the PDP said if he (Amaechi) was not given to rigging, he should not have accepted the result of the election which he suspected was manipulated, stressing that no amount of self righteousness will change him from his real person in the estimation of the right thinking Rivers people.
PDP said Amaechi is only worried because he has never naturally won any election on personal merit.
"He is either riding on the back of a political master or through intense lobbying which he has discovered is no longer tenable, the PDP remarks," the statement said.
The PDP dared Amaechi to keep for once to his promise of 'one man, one vote' in the upcoming elections and see whether he will not be amazed by the voice of Rivers people who are eager to be redeemed from the state of hopelessness he has plunged them into.
Reassuring the embattled Amaechi and his All Progressives Congress (APC) of meeting their political waterloo in 2015, the PDP said it's leaving nothing to chance to ensure that the stolen mandate of the party is recovered legitimately as has always been the case.
"If Amaechi is ever dreaming of a repeat performance in the fraudulent act of cutting corners during elections as he has confessed, he should as well throw in the towel before the contest proper because rigging is an impossibility this time around.
Stopping him in 2015 is a task that must be accomplished legitimately," the PDP declared.

Load more