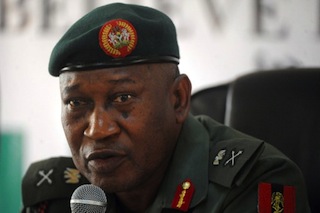 The 7 Division of the Nigerian Army, Maiduguri, on Saturday handed over another 125 suspected Boko Haram insurgents to the Borno State Government after they had been cleared of belonging to the sect.
Colonel Sani Usman, the spokesman of the division, handed over the suspects to Governor Kashim Shettima at the Government House in Maiduguri.
Usman said that the suspects were arrested in Biu, headquarters of Biu Local Government Area of Borno, on Sept. 23.
"Following bombardment on suspected insurgents hide out in September, some of the insurgents decided to flee to other parts of the country to either cause havoc or hide themselves.
"The military intercepted them and 254 suspects were arrested in some trucks in Biu.
"Out of those arrested, 125 were found to be clean after investigation."
He said that the military decided to free them after realising that they were innocent.
"We decided to hand them over to Shettima after being directed by the Army Headquarters in Abuja.

Load more