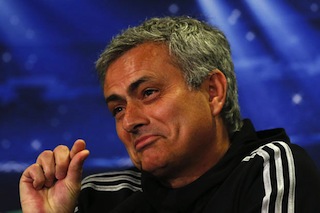 Jose Mourinho insists there will be no repeat of Chelsea's ultra-defensive gameplan when the Premier League leaders return to the scene of their smash and grab raid at Liverpool on Saturday.
Mourinho's side ruined Liverpool's bid to win their first English league title for 24 years with a 2-0 win at Anfield towards the end of last season.
The Blues delivered a masterclass in the art of frustrating an opponent and their cautious gameplan paid dividends when Liverpool captain Steven Gerrard's infamous slip gifted Demba Ba the opening goal.
Liverpool were so vexed by Mourinho's tactics that boss Brendan Rodgers accused him of 'parking two buses' in front of Chelsea's goal.
But, while last season Chelsea went into the fixture as underdogs due to Liverpool's superb form at the time, Mourinho and company return to Merseyside with a more positive agenda as they look to extend their unbeaten start to the season by capitalising on the Reds' recent struggles.
"Our intention is to win. Our intention is when we have the ball we want to try to score goals and when Liverpool have the ball we have to try to stop them from scoring," Mourinho said.
"Sometimes some people pretend to be clever but this is the ABC of football.
"I did this since I am a coach and I'm going to do this till my last day."
Aiding Mourinho's pledge to go on the attack is the availability of injury-plagued Diego Costa, who will start at Anfield even though the Spain striker will miss his country's Euro 2016 qualifying match with Belarus and friendly with Germany later this month.
Mourinho will play Costa, scorer of nine goals in eight league games, before enforcing rest to allow him to recover from his persistent hamstring problems.
"He starts the game. The plan is immediately after the match to have a period of complete rest. No training, no treatment," Mourinho added.
Meanwhile, Rodgers insists there is no chance Gerrard will crack under pressure when the Liverpool midfielder bids for redemption after his disastrous slip last term.
The 34-year-old has been well below his best since that agonising mistake and his spluttering campaign, which mirrors his team's own struggles, suffered another blow on Tuesday when he was restricted to a 20-minute substitute appearance in the 1-0 Champions League loss at Real Madrid.
But Rodgers said: "He has had hard moments in his career and he always responds magnificently. There was no blame. It was just an unfortunate thing
"He is a big character and bounces back from that. It shows you the character of Steven."
– Welcome tonic –
If Liverpool do avenge last season's loss, it would be a welcome tonic for champions Manchester City, who trail Chelsea by six points and are in severe danger of crashing out of the Champions League following their shock midweek defeat against CSKA Moscow.
Manuel Pellegrini's side travel to second bottom QPR on Saturday with captain Vincent Kompany conceding his team-mates will have to improve quickly if they want to overhaul the leaders and also progress in Europe.
"The result says enough. There is no way we can afford to lose points against a team we should beat every day," he said.
"It won't take a lot for everyone at the club to realise we need to do better."
Second-placed Southampton have provided the most uplifting story of the season by defying predictions of a relegation battle following the departure of manager Mauricio Pochettino and five star players.
But boss Ronald Koeman, whose team host Leicester on Saturday, has little hope Saints will keep pace with Chelsea and City in the title race.
"In one game we can beat them but it is a two-team race because I still believe City and Chelsea are normally much stronger over the whole season," he said.
"The next step for us is playing in Europe. I have confidence we can reach that."
On Sunday, fourth placed Arsenal will look to put their midweek meltdown against Anderlecht, when they conceded three goals in the final 29 minutes of a 3-3 Champions League draw, behind them with a victory at Swansea.
"That was a good warning that everyone should raise their game," Arsenal defender Per Mertesacker said.
Fixtures (1500GMT unless stated)
Saturday
Burnley v Hull, Liverpool v Chelsea (1245GMT), Manchester United v Crystal Palace, QPR v Manchester City (1730GMT), Southampton v Leicester, West Ham v Aston Villa
Sunday
Sunderland v Everton (1330GMT), Swansea v Arsenal (1600GMT), Tottenham v Stoke (1330GMT), West Brom v Newcastle (1330GMT)

Load more