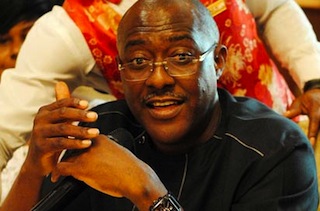 The National leadership of the Peoples Democratic Party (PDP) has said that only its national leaders are permitted to release results of its ward congresses and other primary elections across the country.
Olisa Metuh, the party`s National Publicity Secretary, gave the clarification in a statement on Saturday in Abuja.
According to him, some individuals have purportedly released the result of the election of three man ad hoc delegates for the party`s primary elections in Ebonyi, held on 1 November.
He frowned at the development, adding that the party`s leadership would thoroughly investigate the
illegality and take prompt action against persons who participated in it.
"Only the National Working Committee (NWC), through the Office of the National Organising Secretary, can release the result of the ward congresses for the election of three man ad hoc delegate or any primary election conducted by the party.
"Accordingly, in line with the PDP constitution and our earlier directives in other states, we expect the Ebonyi State Deputy Chairman, being the Acting State Chairman, to convene a State Executive Committee meeting within two weeks," Metuh said
The committee, he said, should elect a new chairman for the party's state chapter.

Load more