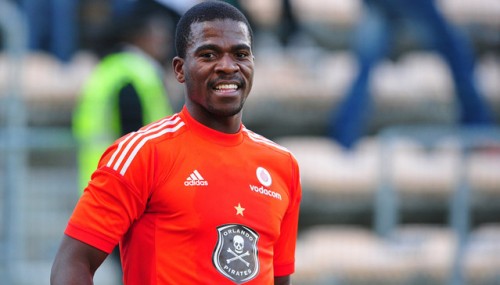 It's a call normally heard in countries emerging from civil war: hand over your illegal weapons in exchange for amnesty.
Instead it comes from South Africa's football association after the captain of the national team was shot dead in a botched robbery.
The plan? To use the guns to build a monument in honour of 27-year-old Bafana Bafana goalkeeper Senzo Meyiwa, whose death sparked an outpouring of grief in a crime-ridden nation.
The monument would be placed in front of the FNB Stadium in Johannesburg, where the opening match of the 2010 FIFA World Cup was played four years ago.
"The more guns we receive, the bigger the statue," said South African Football Association (SAFA) spokesman Dominic Chimhavi.
The details still need to be worked out with the police and justice ministries to determine just where, when and how the guns will be collected — and to secure a guarantee of no arrests, no questions asked.
"If you ask questions, people will be afraid," explained Chimhavi.
But, he continued, "we lost one of our heroes, our captain, our goalkeeper, you understand? This death has really affected the country. Don't forget… the Orlando Pirates (Meyiwa's club) are the Liverpool and the Manchester United of South Africa."
Thousands attended Meyiwa's funeral last week, while the Pirates announced the number one jersey would be retired in honour of their star player.
"We have received massive feedback from the public to say, 'we need to remove these illegal guns from the streets… we want to surrender these guns… but we want an amnesty."
"The mood is right, the public pressure is right, and with SAFA pushing this forward, there is a high probability this could happen," said Claire Taylor of Gun Free SA, a local NGO lobbying for stricter gun control.
– 'Criminals issued legal guns' –
South Africa has already had three collections of illegal weapons, the first a few months after its first democratic elections in 1994 and then again in 2005 and 2010.
Despite this – and the strict laws already in place – the problem of gun violence remains.
The high number of legally-held weapons in a population afraid of crime ironically means that many are stolen and fall into the hands of criminals.
Taylor pleads for fewer licences: "We need to make sure that only responsible people are granted licences and that they don't leave their guns lying around."
She also pointed to corruption and fraud in the firearm licensing process.
"Criminals are being issued with legal guns," she said.
Gun numbers are hard to come by in South Africa, with police refusing to supply official figures, but Gun Free SA points to a 2011 affidavit that listed 3.2 million guns for 1.8 million licensed gun owners.
But for illegal weapons, the numbers are much more vague, ranging between 400 000 and four million.
The sheer prevalence of weapons contributes to a high homicide rate in a country already riddled with endemic violence. In 2013/2014, South Africa averaged 47 murders per day in a population of 53 million.
SAFA's call could be the catalyst for the government to take action.
In the wake of Meyiwa's murder, Minister in the Presidency Jeff Radebe welcomed a debate over the availability of weapons. It was time for South Africans to decide, he said, "whether we are hell-bent on self destruction or peaceful co-existence".
Even the elite are not immune. A week before Meyiwa was killed, ruling African National Congress secretary-general Jackson Mthembu was shot in the face while withdrawing money from an ATM. He spent ten days in hospital.
Plans for a new weapons amnesty were welcomed by Natalie Jaynes of Open Society, an NGO.
"With each amnesty weapons did come in and it's a good thing. Of course they could be more successful but it's a low cost and relatively easy way to get guns out of the wrong hands," she said..
"During the last amnesty, the minister of police actually convened a group of civilian monitors who would then undertake all spot checks and monitor that weapons surrendered to the police were properly recorded and submitted for destruction.
"Especially in South Africa, where we have a problem with implementing the fire arms control legislation, amnesty is very helpful."

Load more