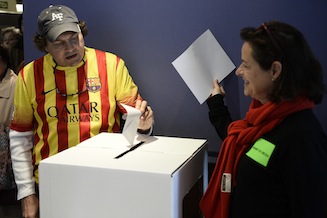 Spain's Catalonia region voted in a symbolic ballot Sunday on whether to break away as an independent state, defying fierce challenges by the Spanish government.
Voters formed long queues outside polling stations and some applauded as the ballots opened on Sunday morning, after weeks of tense legal wrangling with Spanish authorities.
One of Spain's richest but most indebted regions, Catalonia's long-standing yearning for greater autonomy has swelled in recent years of economic hardship, sharpened by resistance from Madrid.
"This is an opportunity we could not miss… We have been demanding it for a very long time," said Martin Arbaizar, 16, queueing under blue skies to vote at a polling station in a school in Barcelona.
The Spanish government challenged the vote in the courts, forcing Catalan leaders to adapt it from an official but non-binding referendum to a symbolic vote organised by volunteers.
"Even though it may not be official, I think the important thing is that they listen to us," said Arbaizar. "The more people vote and the more noise we make, the better."
Spain's conservative Prime Minister Mariano Rajoy's conservative government has vowed to defend the unity of the country, as it recovers from a steep economic downturn.
His government has mounted a series of constitutional appeals to try to block the vote.
But Catalans have pushed ahead defiantly, fired up by the independence referendum held in Scotland in September, even though Scots voted not to break away from Britain.
– 'Not a referendum' –
Rajoy says his country cannot hold an independence referendum like Scotland because, unlike Britain, it has a written constitution that forbids it.
He downplayed the significance of the poll at a party rally on Saturday in the eastern city of Caceres.
"Call it whatever you like, but it is not a referendum, not a consultation, nor anything that resembles it," he said. "What is certain is that it will not have any effect," he said.
Proud of its distinct language and culture, Catalonia, a region of 7.5 million people, accounts for nearly a fifth of Spain's economy.
Demands for greater autonomy there have been rumbling for years, but the latest bid by the region's president Artur Mas has pushed the issue further than ever before.
Catalonia took a step towards greater autonomy in 2006 when it formally adopted a charter that assigned it the status of a "nation".
But in 2010 Spain's Constitutional Court overruled that nationhood claim, fuelling pro-independence passions.
Spain's recent economic crisis has increased unemployment and hardship in the region and swelled its debts, but in 2012 Rajoy rejected Mas's request for greater powers for Catalonia to tax and spend.
In response, Mas vowed to hold an official yet non-binding vote on independence, but the Spanish government's legal challenges forced him to water that down.
Sunday's polls were staffed by volunteers. Some 41,000 signed up for the job.
There is no official electoral roll but the regional government says 5.4 million Catalans and resident foreigners aged 16 and over are eligible to vote.
The ballot papers put two questions to voters: "Do you want Catalonia to be a state?" and if so, "Do you want that state to be independent?"
Ballot boxes were set up on Saturday at schools and town halls across Catalonia even though the central government warned the regional government that it cannot use public resources to stage the vote.
The Spanish government has not specified what legal consequences, if any, Catalan leaders, volunteer poll workers or voters might face Sunday when the vote is over.
Critics say Sunday's symbolic vote is meaningless since those who take part will be overwhelmingly in favour of independence.
Recent polls show about half of Catalans favour independence.

Load more