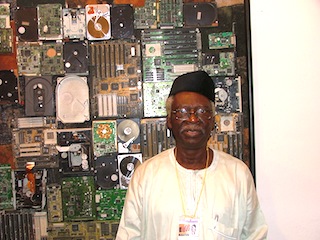 President Goodluck Jonathan has applauded the honour conferred on Bruce Onobrakpeya, one of Nigeria's most renowned artists, by the Smithsonian National Museum of African Arts in Washington DC on Friday.
Jonathan, according to a statement issued by his Special Adviser on Media and Publicity, Dr Reuben Abati, on Sunday in Abuja, said this in a congratulatory letter to the artist.
The 82-year old sculptor, painter and print-maker was named the Artist Honouree on the occasion of the Museum's 50th Anniversary Celebrations, the statement said.
It added that Onobrakpeya also received the United Nations Educational, Scientific and Cultural Organisation (UNESCO) Living Human Treasure Award in 2006.
The statement quoted Jonathan as saying Onobrakpeya's "outstanding and remarkable works over several decades made him worthy of the recognition by one of the most distinguished art institutions in the world."
"You are indeed a living treasure of Nigeria.
"As a member of the Zaria Art Society when you and your colleagues fused colonial art practice with traditional art-forms and philosophy, you have been the consummate artist.
"Indeed, there is hardly any individual more deserving of recognition at the Smithsonian's celebration of 50 years of African Art and Culture.
"You have been a catalyst as well as a mentor and inspiration to generations of artists.
"I note that the Washington programme at which you were honoured included an event tagged, 'Conversations: African and African American Artworks in Dialogue.
"This too is apt, for you continue to be at the forefront of dialogue between artistic traditions in Nigeria and around the world.
"Closer to home, your works in the State House Art Collection have given me many moments of meaningful reflection.
"I am sure they have done same for many visitors to the Presidential Villa," the president was quoted as saying in the letter.
According to the statement, Jonathan declared that the celebrated artist's works have been a high point of beauty and dignity in the lives of Nigerians.
He prayed that Onobrakpeya would continue to "ennoble the country's cultural space for many more years."

Load more