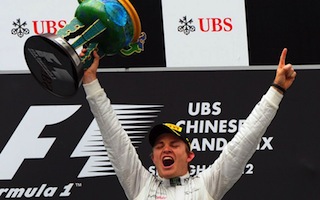 Nico Rosberg kept alive his world title hopes when he won Sunday's Brazilian Grand Prix ahead of his Mercedes team-mate and championship leader Lewis Hamilton.
Rosberg's triumph ended Hamilton's run of five straight wins and reduced the Briton's lead in the championship from 24 points to 17 with one race remaining, the Abu Dhabi Grand Prix on November 23.
Hamilton knows that even with double points to the winner on offer in Abu Dhabi he will be champion if he can finish second, no matter what Rosberg achieves.
The 29-year-old German, who had dominated every practice session at Interlagos and started from his 10th pole of the season, came home 1.457 seconds ahead of Hamilton.
The result gave Rosberg his first win and podium finish in Brazil, his first in eight races since victory on home soil in Germany in July, the fifth of his season and the eighth of his career.
"I am happy with the whole weekend," said Rosberg.
"I was able to attack and to control the gap to Lewis in the race and it all worked out so that is great for me and the support for us all has been excellent."
Hamilton said: "It was an amazing race. I had a great time. I made a big mistake in the middle of the race but otherwise the car was superb and everyone did a great job.
"It was great to race Nico and it is brilliant to see Felipe up here on the podium. There is now everything to play for in the final race in Abu Dhabi."
For Mercedes, it was their record 11th one-two finish this year, beating the previous record held by McLaren who had scored 10 one-twos in their triumphant 1988 season with Frenchman Alain Prost and Brazilian Ayrton Senna.
Local favourite Felipe Massa came home third for Williams ahead of Jenson Button in what may have been his penultimate race for McLaren and four-time champion Sebastian Vettel of Red Bull.
Fernando Alonso finished sixth for Ferrari after a tense battle ahead of his team-mate Kimi Raikkonen who was seventh.
Nico Hulkenberg was eighth for Force India, Kevin Magnussen ninth in the second McLaren and Valtteri Bottas 10th in the second Williams.
Knowing only three of the last 14 pole-sitters at Interlagos had won, Rosberg was utter concentration as he drove flawlessly through the opening laps.
By lap five, he led by 3.3 seconds before the early pit-stops began with Massa.
To the dismay of his fans, Massa was given a stop-go penalty for speeding in the pit-lane, a mere delay he undertook at his next stop as he raced with ferocious pace.
Two laps later, Rosberg came in and Hamilton pushed to take advantage, pitting one lap later. When he emerged, he was just behind his team-mate in a new order led by Hulkenberg, Kvyat, Vergne and Grosjean.
It took the two McLarens until lap 18 to regain ascendancy at the front.
By lap 20, Rosberg was complaining of under-steer and led by 2.1 seconds. Hamilton had a blister on his front right tyre, but that did little to stop him building up speed for an attack.
By lap 22, he had reduced the gap to 1.8 seconds to put Rosberg under pressure. The German locked-up on lap 25 and, with severely blistered tyres, pitted again at the end of lap 26.
Encouraged, Hamilton clocked a fastest lap and stayed out to create a passing opportunity, but on lap 28 he, too, locked up and spun off.
He recovered and pitted, but rejoined seven seconds behind Rosberg.
Disappointed, Hamilton rose to the challenge again.
Hamilton reduced the lead to 1.8 by lap 47 before their third and final stops after laps 50 and 51 respectively. On resumption, Hamilton was on Rosberg's tail again, the gap cut to 0.8 seconds.
Massa, in a hapless moment, pulled into the McLaren pit garage for his third stop and, amid much waving, realised and drove forward to find his Williams men waiting. It left him with another scrap as he battled to stay third, ahead of Button.

Load more