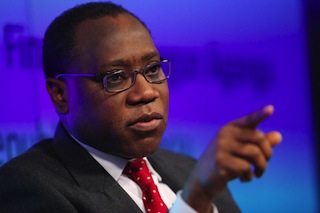 Mr Ibrahim Auwalu, Nigeria's Ambassador to the United Arab Emirates (UAE), has observed that trade between both countries is not formal, in spite of the cordial relations between them.
He spoke to NAN in Abuja on Sunday by telephone from Abu Dhabi. "The trade volume is big because a lot of Nigerians visit Dubai regularly for shopping, but about 99 per cent of this trade is informal," he said.
He said that the mission was currently negotiating investment promotion and protection agreement in that regard.
Auwalu also expressed the hope that the agreement, when signed, would correct the trade imbalance and encourage foreign direct investments in Nigeria.
He added that several UAE companies have communicated their readiness to invest in renewable energy, agriculture, mining and real-estate business in Nigeria.
He expressed also dissatisfaction that the trade between both countries favoured UAE more than Nigeria.
"But once we sign the agreement, it will open up Nigerian economy for more investments from companies in the UAE," he said.
The ambassador also observed that UAE had become a choice destination for Nigerians that were interested in real estate business.
According to him, Nigerians remain the second largest property owners in Dubai's real estate sector, after Indians.
He said that Nigerians spent more than 110 million dollars (N18 billion) annually on UAE visas.
"Moderately, we can say Nigerians have spent close to 1billion dollars in the last ten years on visas to the UAE, excluding the cost of flight tickets, hotels and shopping," he said
On the welfare and protection of Nigerian in the UAE, Auwalu said the mission was doing its best to ensure that the rights of Nigerians living in the country were protected.
He, nonetheless, expressed regret on the recent murder of a Nigerian, Oyamiefa Alamieyesigha in the country.
He said the mission facilitated the transportation of Alamieyesigha's body to Nigeria for burial.
The ambassador also said the remains of a Nigerian woman, who died in August in Abu-Dhabi on-route India, had been transported to Nigeria.
He observed that the immediate cause of the woman's death had caused a scare when the Emirati officials linked it to Ebola Virus Disease (EVD).
He said the test on her body, however, proved that the woman did not die due to infections arising from EVD and the body was transported to Nigeria for burial.

Load more