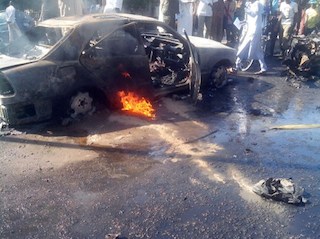 An explosion ripped through a school in northeast Nigeria on Monday, as students gathered for morning assembly before classes began, a teacher and a medic told AFP.
The blast happened at the Government Comprehensive Senior Science Secondary School in Potiskum, Yobe state, as students waited to hear the principal's daily address.
"The students had gathered for the morning assembly when something exploded in their midst with a thunderous sound at exactly 7:50 am (0650 GMT)," said one teacher, who asked not to be identified.
"The explosion has affected many students but I can't say how many because we are now evacuating the victims to the hospital which is just 100 metres (yards) away," the teacher added, sobbing.
A medic at the Potiskum General Hospital where the victims were taken said scores of students had been admitted.
"We are still receiving casualties from the school which is a stone's throw from here," the medic said.
"Our priority now is to save the injured, so we have not started a headcount of the victims."
A local resident, Adamu Alkassim, said there was confusion in and around the school but the scene was a mass of abandoned footwear and blood.
There was no immediate claim of responsibility for the attack but Boko Haram militants are likely to be the prime suspects.
The group, which wants to create a hardline Islamic state in northern Nigerian, has previously carried out deadly attacks on schools teaching a so-called Western curriculum since 2009.
In February, gunmen killed at least 40 students when they opened fire on students and threw explosives into the dormitory of a government boarding school in Buni Yadi, also in Yobe state.
In July last year 42 students were killed when Boko Haram gunmen attacked dormitories with guns and explosives in a government boarding school in the village of Mamudo, near Potiskum.
Potiskum, the commercial hub of Yobe state, has been repeatedly targeted by deadly attacks blamed on Boko Haram.
Just last week, at least 15 people were killed in a suicide bomb attack targeting a Shia religious ceremony in the city.
Yobe is one of three northeastern states that has been under a state of emergency since May last year to try to quell the bloody insurgency.
But violence has continued unabated and Boko Haram has seized at least two dozen towns and villages in recent months, raising fears of the government's ability to control the region.

Load more