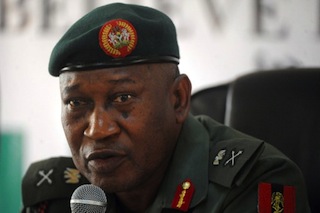 The Nigeria military said one of its helicopters made an emergency landing in the restive northeast on Monday, while witnesses and a security source reported that the chopper crashed with several foreigners on board.
Defence spokesman Chris Olukolade said the helicopter left on a training mission at about 9:30 am (0830 GMT) from the airport in Yola, capital of Adamawa state, which is under a state of emergency because of Boko Haram's violent uprising.
The pilot executed "a controlled forced landing four minutes after take-off", Olukolade said in a statement. "There is no casualty recorded."
But the military's account differed from that of witnesses in the town of Damare, just outside Yola.
Hassan Alimu, who is living at a camp in the area for people displaced by the Boko Haram insurgency, said the chopper crashed and "was badly damaged, especially the wings".
He said there were five foreigners on board.
That report was supported by a senior security source in Adamawa who requested anonymity. The source identified some of the passengers as "oyinbos" — slang for white person.
There was no immediate indication on the identity of the purported foreigners.
According to Alimu, four other helicopters were dispatched to the crash site and the five foreigners were whisked away. He said the helicopter's cargo was loaded into military vans.
A reporter who rushed to the scene and requested anonymity said the military confiscated the phones of locals to prevent them from taking pictures.
Nigeria's military has suffered a series of air crashes in the northeast since it launched an offensive in the region against Boko Haram in May of last year.
The Islamists have claimed to have shot down a number of aircraft, including a Nigerian air force jet that went missing in September, again on a mission out of Yola airport.
But those claims have been dismissed by the military and not supported by witness accounts.

Load more