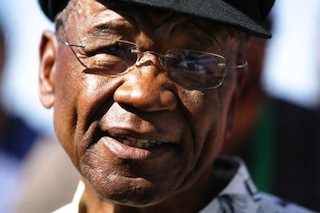 Lesotho police are investigating allegations that Nigerian "mercenaries" plan to kill Prime Minister Tom Thabane in a bid to further destabilise this crisis-hit nation still reeling from an attempted coup.
Senior police and government officials told AFP on Monday that government offices had been evacuated and the prime minister and King Letsie III cancelled public engagements Sunday amid intelligence suggesting a plot.
Assistant Police Commissioner Sello Mosili said a team of perhaps 14 Nigerian and Ghanaian soldiers-for-hire reportedly entered Lesotho through a rugged, mountainous southeastern border area with South Africa.
It is believed they have a stash of weapons.
"That's information that we've heard from local people in the mountains," Mosili said adding. "It's still under investigation."
Thesele Maseribane, a government minister and the third leader of the ruling tripartite coalition, said his armed South African guards evacuated from his office on Friday, ahead of intelligence that mercenaries were on their way to kill him.
"It's not about security for me or for the prime minister, but about the security of the nation," Maseribane told AFP Monday. "Are my people secured? My answer is, no."
The assertion of mercenaries in this mountain enclave, which is encircled by South Africa, is just the latest chapter since an August 30 putsch that saw Lesotho Defence Force soldiers raid Thabane's official residence, forcing him to flee into South Africa.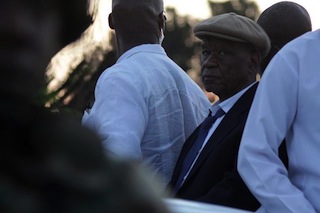 The renegade military commander who reportedly led the assault, Lieutenant General Tlali Kamoli, has refused to surrender and is at the centre of crisis-mediation efforts led by the region's Southern African Development Community.
On October 17, the SADC mediator, South African Deputy President Cyril Ramaphosa, convinced Kamoli to sign an accord that called for him to take an indefinite "leave of absence" from Lesotho, handing over control to his deputy commander.
His deadline to leave Lesotho is this coming Saturday.
Yet last week, a top Lesotho defence official accused Kamoli of several breaches –- including allegedly telling troops that he's still in command, and will be back soon.
Maseribane said the mercenaries were not only targeting certain politicians but seeking to undermine elections planned for February 2015 –- which the SADC had moved up more than two years as one political remedy to Lesotho's crisis.
Maseribane, who says he's now under even heavier South African police protection, pointed the blame at certain opposition politicians, accused of corruption, who ruled for 14 years before Lesotho's landmark 2012 elections saw a peaceful handover of power.
"They don't think they can win the coming elections," says Maseribane, "so they want to destabilise the whole country, creating no-go areas during the elections."

Load more