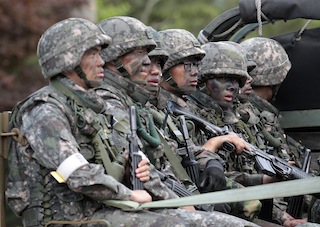 South Korean troops fired warning shots Monday as a North Korean patrol approached the heavily fortified border inside the so-called Demilitarised Zone (DMZ) that separates the two rivals.
There was no exchange of fire and the North Korean patrol eventually moved away from the military demarcation line, a defence ministry spokesman said.
There have been a series of minor skirmishes, involving exchanges of fire but no casualties, along the inter-Korean land and sea borders in recent months.
The spokesman said the latest incident occurred around 9:40am (0040 GMT), when around 10 North Korean soldiers were observed moving towards the border line.
"After issuing verbal warnings, our side fired around 20 warning rounds," the spokesman said, adding that the North Korean patrol later retreated.

Load more