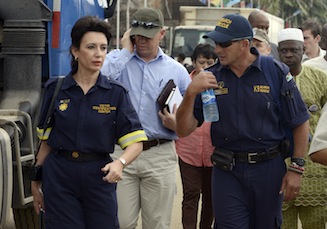 The South African government said Tuesday that it was ready to repatriate on the weekend the bodies of 81 of its nationals killed in a September church building collapse in Nigerian economic capital Lagos.
"We have 100 percent fool-proof plan that should we get a green light, we should be able to dispatch two chartered flights to Lagos so that Saturday evening we can be able to transport the remains to South Africa," Jeff Radebe, a minister in the presidency told journalists.
Radebe, who is leading a powerful South African delegation to Nigeria over the repatriation of the bodies, said he met President Goodluck Jonathan in Abuja on Monday over the issue.
Radebe, the special envoy of President Jacob Zuma, said he discussed with the Nigerian leader "the need for the speeding up of the process of repatriating 81 South Africans who perished in the tragic event" of September 12 in Lagos.
A total of 116 people were killed when a guesthouse at the Lagos megachurch of one of Nigeria's most popular preachers, TB Joshua, collapsed.
Joshua, founder and head of the Synagogue Church of All Nations (SCOAN), has so far failed to appear at a coroner's inquest to explain how the people died.
Radebe said that his government was ready to repatriate all the 81 bodies, including those of three Zimbabweans and one DRC national "who are also carrying South African passports".
Both Presidents Jonathan and Zuma have been communicating over the repatration of the bodies, said Radebe, who also plans to meet on Wednesday Lagos Governor Babatunde Fashola on finalising the process.
"We on our part, we stand ready, as soon as we get the green light… if everything goes on well, we should be able to repatriate them… to arrive in South Africa on Sunday," the minister added.
TB Joshua, the self-styled miracle worker had earlier claimed that sabotage from a low-flying aircraft and a terror attack may have caused the tragedy.
But experts witnesses at the the coroner hearing have previously ruled out the theory of aerial sabotage or an explosion.
The court had been told that the guesthouse did not have planning permission.

Load more