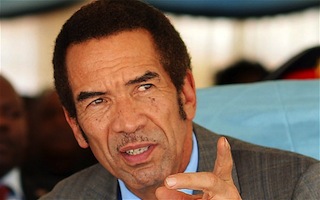 Botswana's government says it will accept a court ruling that effectively thwarts President's Ian Khama's bid to appoint his brother as vice-president.
Khama, re-elected for a second term last month, wanted lawmakers to vote by a show of hands for his deputy instead of through a secret ballot that would have allowed a party revolt.
The Court of Appeal on Tuesday followed the High Court in judging a secret parliamentary ballot constitutional.
"Government accepts that the matter has been resolved and wishes to assure the public that it will respect and fully implement the decision of the court," the executive said in a statement late Tuesday.
Khama had faced a backlash from within his own party over the prospect of Tshekedi Khama being vice president, with parliamentarians accusing the president of trying to create a dynasty in one of Africa's most democratic nations.

Load more