Abiodun Onafuye/Abeokuta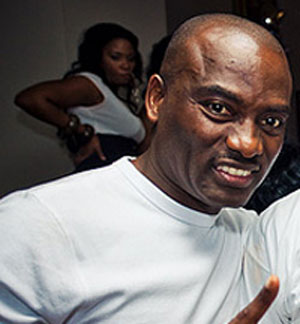 The co-owner of Kennis Music, Adedayo Adeneye, popularly known as D-One has declared his intention to vie for the seat of a state lawmaker, representing Odogbolu State Constituency in Ogun State, southwest, Nigeria.
D-1 is a well known name in the entertainment industry in Nigeria and globally. He revealed that his mission to join politics borne out of his belief to put smile on the faces of his people and create a positive change where necessary with his determination to always bring out something from nothing.
Speaking with PM News exclusively today in Odogbolu at the declaration ground, where people from all walks of life were in attendance to give support to political bid, the Ibefun born media guru turned politician declared that he wants to revolutionalise governance the way he alongside his partner, Kenny Ogungbe did to the entertainment
industry.
"All of us are political animals, just that some are more active than others. If you sit down in the beer parlour or in your room discussing about what the government is doing, the governor, the president, even the council chairman. If you are talking about roads, electricity, welfare, we are being political, just that some are more
active than others. I don't want to sit on the fence again and complain anymore, I for once, want to be part of those that will effect change.
"I decided to be more active because I am an agent of change, positive change. Just as we did in the entertainment industry, we want to become an agent of change in governance. Together with Kenny Ogungbe,we have been able to revolutionalise the entertatinment industry, if we can do that with the little resources we have, what would you
expect from us if we have the machineries of government behind us. Instead of sitting and be complaining, I have decided to join the politics.
"If you know my track record, I have always been a trailblazer. I don't follow the path of others. If I can take
youngmen and turn them to a world class multi billionaires, they became people known everywhere in the world. People like D'banj, Tony Tetuila, Eidrees Abdulkareem, who is the first and youngest Nigerian to carry the big torch. Since the track record is there, give me the chance, I am a well known personalty, I know what my people want and you too know what I'm capable of doing, you will see what will happen," D-1 promised.
On why is he contesting for the State House of Assembly and not a higher office, he disclosed that his mission and vision are for his people and will prefer to be with them and serve them at home than to go and sit in Abuja.
"I have always done things that will impact lives. I was a teacher and I taught for seven years before I left the job. I would have travelled abroad or joined NNPC but I joined entertainment industry. I love meeting people and interacting with them. If I can go to Yaba College of Tech and pick three lads, Tony Tetuila, Edris and Eddie and turn them to a world class stars, imagine what I can do if given the opportunity to serve my people. I like changing lives and prefer to serve my people at the grassroot raher than to go for Senate or any other office. If I go, I will be sitting in Abuja. Let me start from home, you don't climb the tree from the top," Adeneye stated.
He however solicited for the support of the good people of Odogbolu local government to support him in his mission to serve them, promising not to disappoint them. "I am offering myself and I solicit your support. I will work to create opportunities for all and offer selfless service. I will sponsor bills that would positively affect the lives of my people and work in alliance with other like minds in the House of Assembly to create wealth, jobs and bring dividends of democracy to the grassroots.
"I stand before you today in the spirit of continuity of which His Excellency, Ibikunle Amosun is known for, the mission to rebuild continues. I count on your support as I formally declare my interest to seek for the House of Assembly ticket of our great party, APC for Odogbolu Constituency in February 2015 general elections," D-1 concluded.
Among the dignitaries at the declaration ground were the Chairman, Odogbolu local government, Olawale Shittu and all political office holders in the local government. Also in attendance were Hon. (Barr.) Ayo Banjo, Party Chairman, APC, Odogbolu, who lead other 15 executive members, various political groups, students groups, artisans, market men and women and other stakeholders.
Other personalities includes the Publisher of the City People magazine, Seye Kehinde; MD/CEO The Market Ombudsman, Barr. Ope Banwo and many other top figures from all sectors in the country.

Load more