Abiodun Onafuye/Abeokuta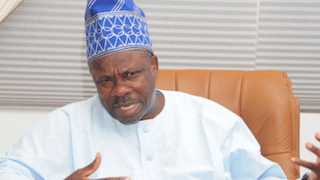 Eight members from the Ogun State House of Assembly have defected from their parties to pitch tent with the newly formed Social Democratic Party, SDP and Peoples Democratic Party, PDP.
While five of the lawmakers switched from the ruling All Progressives Congress, APC and Peoples Party of Nigeria, PPN to PDP, three others defected to SDP.
The announcement of the defection was made today during the plenary sitting by the Speaker of the House, Rt. Hon Surajudeen Ishola Adekunbi.
According to him, "I received a letter announcing the defection of Messer's Joseph Adegbesan, (Ijebu North 2), Salmon Adeleke,(Imeko-Afon), John Obafemi,(Remo North) Remmy Hazzan (Odogbolu) and Obafemi Olowo-Oloja (Ijebu East) to the PDP.
"I also got three letters this morning from Hon. Olufemi Allen-Taylor,(Abeokuta South 2), Oludaisi Elemide (Odeda) and Elizabeth Anifowose (Obafemi-Owode) announcing their defection from the All Progressive Party (APC) to the Social Democratic Party (PDP)," Adekunbi said.
It would be recalled that the trio of Adegbesan, Adeleke and Obafemi were elected into the House on the platform of the Peoples Party of Nigeria (PPN) while Hazzan and Olowo-Oloja were elected on the platform of the ruling All Progressive Congress, APC
The five lawmakers have been romancing the PDP until they finally wrote the House to formally announce their defection while the three lawmakers who defected to the SDP are members of the House who are loyal to the former governor of the state, Chief Olusegun Osoba and they maintained their loyalty to him and his group, popularly known as Matagbamole.
Meanwhile, the state governor, Ibikunle Amosun will be presenting the 2015 budget proposal to the House on Tuesday, 18 November 2014.
The Speaker, while reading the governor's letter during the plenary today in Abeokuta, disclosed that the presentation of the fiscal proposal will be made by 10:00 a.m.
"This is in accordance with the provision of Section 121 of the Nigerian constitution. Governor Ibikunle Amosun expressed gratitude to the members of Ogun State House of Assembly for their cooperation with the executive," the letter read.

Load more