Jamiu Yisa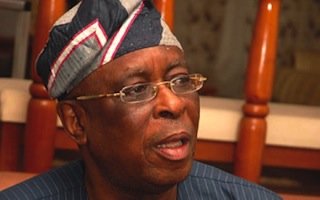 The Lagos State Chairman of Peoples Democratic Party (PDP), Captain Tunji Shelle has said that former governor of Ogun state, Aremo Olusegun Osoba and his supporters will soon find their way to the PDP in Ogun state.
Reacting to the defection of Osoba and his followers from the All Progressives Congress (APC) to the Social Democratic Party (SDP), Shelle, said that the only party where the ex-governor and his travellers can find true peace is the PDP.
He also criticised the Ogun state governor, Ibikunle Amosun, whom he accused of running a one-man show that is typical of the national leader of the APC, Asiwaju Bola Tinubu.
Shelle, who said the PDP remains the only party practicing true democracy in Nigeria, urged the defectors to join forces with the PDP to remove the APC in Ogun in the forthcoming general elections.
"I don't blame those who dumped the APC in Ogun. The Ogun state governor, Ibikunle Amosun, though I am not too close to him to study him carefully but from the little I have heard about him, I think he is running a one-man show".
"He is the only one handling all the contracts. It is either he is giving it to his wife, family or friends. Even his commissioners are redundant. All these APC-controlled states are fake progressives. They are deceiving the people. They have commercialized everything that belongs to the people".
"All these defection that is happening in Ogun is as a result of the dictatorship style of the governor and I don't blame those who have dumped the party. They can't remain in the SDP for long. I see them joining forces with the PDP in few days from now," he said.

Load more